The walkways surrounding Monument Circle would become much wider and extend into the current traffic lanes under a plan to redesign the local landmark to make the streets surrounding it more pedestrian-friendly.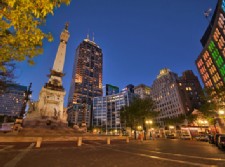 Preliminary plans to reconstruct the brick-paved Circle and adjacent blocks along Meridian and Market streets were unveiled in August 2013. Now the public will get the opportunity to see more specific plans at an open house from 3:30 to 7:30 p.m. Nov. 5 at the downtown Sheraton City Centre Hotel.
The biggest obstacle to overcome, however, could be funding. The first phase is expected to cost $20 million, with an overall price tag of $60 million. The project team led by design firm CHA Companies is seeking a combination of federal, state and municipal funding, as well as philanthropic contributions.
If all goes well, construction on the first phase could start in 2016 and finish the following year.
Under the plan, the sidewalks outside the Circle would be extended by 12 feet and the walkway surrounding the monument would increase by five feet, cutting the traffic lanes from 50 feet to 33 feet, or from three lanes to two.
"The aim is to increase pedestrian traffic and make it more pedestrian friendly," project manager Cynthia Bowen said. "How can we activate the space on a day-to-day basis, and how do we increase activity on nights and weekends?"
Additional phases would extend improvements on Market from Capital Avenue to Alabama Street, and on Meridian from New York Street to Georgia Street.
Overall, the project would involve total reconstruction of curbs, sidewalks, driving lanes, parking lanes and subsurface infrastructure.
The Circle dates back at least as far as 1821, when it was included in the Plat of the Town of Indianapolis. It surrounded the intended site of the governor's house, according to The Encyclopedia of Indianapolis. The Soldiers and Sailors Monument was erected between 1888 and 1901.
The existing brickwork that would be replaced was added in the late 1970s and early 1980s.
 
Please enable JavaScript to view this content.