New Castle-based Ameriana Bank will open its first Indianapolis branch as part of a redevelopment along North College Avenue in Broad Ripple.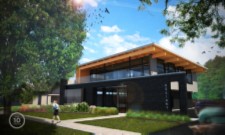 The bank will occupy the ground level of a two-story office building under construction where two homes stood at 5915 and 5925 N. College Ave., said Scott Lindenberg, who along with Thomas Willey operates Reliant Partners Commercial Realty, the developer of the project.
Reliant Partners plans to invest $1.5 million in the 5,700-square-foot building (see accompanying rendering). The firm, located on Westfield Boulevard, will move to the new building on College once it's completed and will occupy part of the second floor. The building should be completed sometime next summer.
The architect for the project is One 10 Studio.
The two bungalows were torn down within the past six weeks to make way for the redevelopment. Reliant's plan to demolish the homes sparked controversy in the neighborhood among some residents who opposed a commercial development in the area.
Founded in 1890, Ameriana has 14 locations, including eight in the Indianapolis area: two in Fishers and one each in Avon, Carmel, Greenfield, New Palestine, Noblesville and Westfield.
A bank executive said she couldn't comment on the new branch until it received official FDIC approval, which Ameriana is awaiting.
Ameriana has 41 local employees, ranking it as the 23rd-largest in the metropolitan area, according to IBJ statistics. It has $124 million in local deposits and $455 million in total assets.
 
Please enable JavaScript to view this content.