A couple of restaurant openings to report on the northeast side:
• Twin Peaks expects to begin serving customers its bar-based fare Dec. 8 after its opening was delayed by a small fire that ignited a year ago in the former Loon Lake Lodge building. Dinner only will be served during the first week before it opens for lunch.
The Dallas-based Twin Peaks chain—think Tilted Kilt in a lodge setting—signed a lease in July 2013 to occupy the 12,000-square-foot building at Interstate 69 and East 82nd Street that had been vacant then for three years.
This will be the first Indiana location for Twin Peaks, which has roughly 60 restaurants in 21 states, including 23 in Texas. Besides sandwiches, salads and appetizers, Twin Peaks' menu features green chili meatloaf, ribeye pot roast and flat iron steak.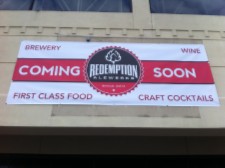 • Redemption Alewerks should open later this month at 7035 E. 96th St. in space formerly occupied by the Blue Crew Sports Grill.
The micro brewpub will offer a full-service bar and menu, according to its Facebook page.
Blue Crew, a Colts-themed restaurant closed in May 2013 after a seven-year run. Colts fans and business partners Randy Collins, Dan Dilbeck and Everett Myers opened the 4,000-square-foot restaurant in October 2006.  
Staying on the northeast side:
• Kittle's Furniture has rebranded its clearance center at Interstate and East 96th Street in Fishers into a store called Below Market.  
On the south side:
• Brew-By-U, touted as Indiana's only business where customers can both brew their own handcrafted beers and shop for home-brewing supplies, is set to open Dec. 13 in a Greenwood strip center.
Greenwood resident Jeremy Hough is opening the store on Meridian Meadows Road south of County Line Road and State Road 135. The venture will feature a six-kettle brewing room complete with flat-screen televisions and a retail shop stocked with fresh ingredients and brewing equipment.
To learn more, check out IBJ's September feature about Brew-By-U.
Downtown:
 
• R2GO should open at 1101 N. College Ave. by mid-month. The market will sell deli meats and cheeses, homemade chicken stock, tomato sauce, meatballs and carry-out meals.
Regina Mehallick, who opened R Bistro at 888 Massachusetts Ave. 13 years ago, is the owner and new tenant of the long-vacant retail building a few blocks north of Mass Ave. Built in 1927, the 6,700-square-foot eyesore underwent a major renovation from neighborhood developer Larry Jones.
• Jiallo's African Caribbean Cuisine has opened at Circle Centre in the food court. Owner and chef Mohammed Jiallo started his career in the restaurant business in Guinea, West Africa, and operates Jiallo's at 4202 W. 56th St.
Rotating menu items include oxtail; curry goat; beef kabobs; grilled steak; tiebdjen, a fried fish dish; and a variety of chicken dishes, including curry chicken, jerk chicken and chicken yassa.
• In case you missed Tuesday's Property Lines post, Gary Brackett plans to bring his Georgia Reese's Southern Table & Bar creation downtown. The restaurant should be open by the end of May.
Closings:
• Performance Bicycle on U.S. 31 South just north of County Line Road has closed. The company's Castleton shop in the Castleton Commons Shopping Center remains open.
• Pearl Bistro at 86th Street and Ditch Road went out of business late last month.
 
Please enable JavaScript to view this content.