A new distillery in Fletcher Place has shipped its first batch of liquor and plans to formally open alongside a complementary restaurant in April.
12.05 Distillery is located at 636 Virginia Ave. in the historic Virginia Avenue State Bank building (built in 1924; see picture) and is named for the date (Dec. 5) that prohibition was repealed in 1933. In the same vein, the eatery will be named Repeal Restaurant.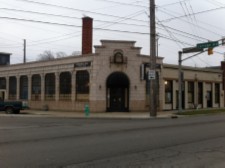 The distillery is owned by Teresa Webster, wife of Bill Webster, who operates Fountain Square Brewery. She's spent the past three years as the brewery's sales manager and has a background in real estate sales.
12.05's distiller is Brad Colver, an Indiana native who spent several years in Colorado at Breckenridge Distillery and Peach Street Distillery.
The distillery features a 20-plate copper system that allows a wider variety of liquor to be distilled and helps remove harsh sulfur compounds from the distillate, Teresa Webster said. Republic National Distributors is distributing its vodka, made from Indiana corn, to select outlets. 12.05's gin should be ready by the end of the year.
Webster also plans to distill liqueurs, whiskeys and rum.
Repeal Restaurant will offer small-plate entrees such as a lobster macaroni and cheese, ahi tuna and different burger varieties paired with cocktails made from the distillery.
12.05 has a three-way liquor license and will also sell beer, wine and other liquor.
"We wanted to have a restaurant feel and not just be a distillery," Webster said. "We want [patrons] to have the whole experience."
The restaurant initially will seat 36, but that number could grow to 84 if Webster receives a zoning variance for fewer parking spaces than typically necessary for that many seats.
The Websters bought the bank building from a local owner. Two of the three retailers it formerly housed, The Good Stuff health food store and Lilly's Soap Kitchen & Artisan Market, have moved to other space on Virginia Avenue.
12.05 will be the second distillery to open in the Fletcher Place neighborhood in the last few months. Hotel Tango Whiskey opened Sept. 11 at 702 Virginia Ave. Travis Barnes, a former Marine, operates the distillery along with his wife, Hillary, and three friends.
 
Please enable JavaScript to view this content.