An upstart apartment developer is seeking to build 24 units in Broad Ripple between the Monon Trail and Winthrop Avenue.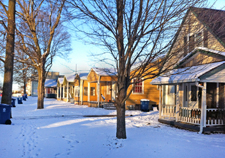 Central Living Group LLC received approval from the city Wednesday to proceed with the $5 million project and now plans to close on the sale of the 1.5-acre parcel one block south of Broad Ripple Avenue. It contains two duplexes and three rental units that will be torn down. (See photo at right.)
"If you look at the Broad Ripple Master Plan, the intent is to create more density near the Village," said Joe Blake, a partner of Central Living Group. "This is a perfect location for that."
Indeed, just to the south on Winthrop, Integra Buildings is constructing the Townes of Winthrop condominiums.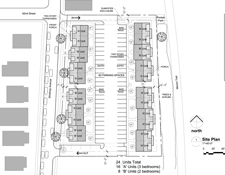 Central Living's project would consist of four two-story duplex-style structures containing six units each. Two- and three-bedroom units will be available ranging from 1,033 square feet to 1,300 square feet. (See image at right.)
The company plans to begin construction in the spring and be ready for occupancy in early 2016.
"There's not a lot of new product in Broad Ripple," Blake said. "We're right in the center of everything, from a village perspective."
Blake is a civil engineer by trade who spent 22 years at Eli Lilly and Co., much of it within its corporate real estate department performing construction and project management.
Over the past four years he had been doing multi-family development on his own before co-founding Central Living Group.
The land on which the company plans to build the apartment project was rezoned in 2007 to make way for a 23-unit condominium project. The development never got built because of the housing downturn, Blake said.
The architect on the Central Living project is Demerly Architects in Broad Ripple. It is finalizing the design of the development.
 
Please enable JavaScript to view this content.