Giordano's is gearing up for a "soft opening" Jan. 27 at its first Indianapolis location, in the River Crossing shopping center.
But Yorgo Koutsogiorgas, the CEO of the Chicago-based pizzeria,  tells IBJ that it plans to open another restaurant in the city–downtown.
"We will absolutely, positively have more than one restaurant in Indianapolis," he said. "It's a wonderful city; we feel at home here."
Koutsogiorgas has been scouting downtown locations and hopes to have a lease signed in the next two to three months, he said.
"We have been very, very aggressive in our search, because we believe in Indianapolis." he said.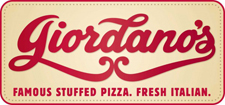 The Chicago-based pizzeria will host an invite-only grand opening Feb. 3 from 11 a.m. to 1 p.m. complete with a ribbon cutting to celebrate the northeast-side opening.
IBJ reported in June that Giordano's was moving into the 4,000-square-foot space at 4110 E. 82nd St., where Sangiovese Ristorante had long been located. The latter is set to re-open soon at the southwest corner of North Keystone Avenue and East 86th Street.
The Rivers Edge location for Giordano's will be among just a handful outside of the Chicago area. The chain has 41 restaurants in the Windy City and neighboring suburbs, and three in Florida.
Giordano's has been recognized as "Chicago's Best Pizza" by the Chicago Tribune, New York Times, CBS and NBC, according to its website.
Known for its signature stuffed pies, Giordano's also serves thin-crust pizzas, appetizers, salads, sandwiches and Italian dishes.  
 
Please enable JavaScript to view this content.