A small downtown parcel that's been vacant for decades has been purchased by a local developer who plans to build an office and residential project on the property.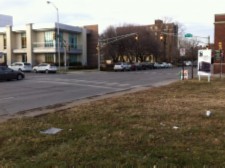 John Watson of Core Redevelopment LLC paid $100,000 for the land at the southeast corner of 10th and Delaware streets. The building will include office space on the first floor and a residential unit above.
Watson said Core might move its office there from its current location at 549 N. Senate Ave.
"This is kind of a missing tooth on those four corners, and there aren't many vacant commercial parcels downtown," he said.
Watson's projects include the redevelopment of the old Bush Stadium on West 16th Street into the Stadium Lofts apartment project and the accompanying Stadium Flats.
The site at 10th and Delaware is catty-corner from the Gresk & Singleton LLP law office that was built in 2007 and across Delaware from the historic University Club.
The lot has been empty since 1974, when a Jewish temple built in 1899 burned to the ground. In 2007, a seven-member partnership that owns the land said it wanted to construct a commercial building on the site consisting of office and retail space but eventually ditched the plans. A rendering of the building is displayed on the sign advertising the project that still sits on the property.
The lot languished on the market until December, when listing agent Joe Shoemaker of MacDuff Realty Group was able to close the sale to Watson.
"It's a great corner," Shoemaker said. "It's not just people blowing by at 50 miles per hour. It's got some nice charm to it."
Please enable JavaScript to view this content.