A large apartment and retail project planned along the Central Canal in Broad Ripple will feature more units than originally envisioned.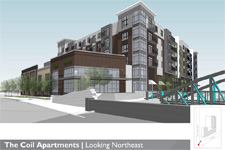 Browning Investments presented final plans and updated renderings Tuesday evening to the Broad Ripple Village Association's land-use committee, before construction begins on the canal just east of College Avenue in March.
The $30 million project, now called The Coil after one of the first families to settle Broad Ripple, will feature 150 units, up from 119. The studio, one- and two-bedroom units will range from 600 square feet to 1,800 square feet and will be priced at market rate.
Browning added more units to the building by making design changes and by adding apartments on the east side of the building, above four townhomes, without exceeding height restrictions, said Jamie Browning, a firm partner.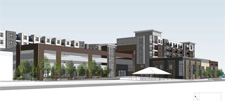 The architect on the project is Browning Day Mullins Dierdorf Architects.
Browning also said the firm is "very close" to signing a specialty grocery to occupy the 35,000-square-foot retail space. Whole Foods is no longer interested, Browning said, but the prospective tenant is a name that is widely recognized.
The project also includes a four-story, 350-space parking garage. It will be built on 1.9 acres along the Central Canal and east of College Avenue. The former Shell station and apartment complex that sat on the property have been demolished.
Also, at the meeting, the land-use committee gave an unfavorable recommendation for a developer's plans to build a three-story, five-unit apartment project on a lot along the canal and west of College Avenue at 6265 Broadway St.
Dozens of Broad Ripple residents attended the meeting to voice opposition to the project, which they consider too dense for the lot. Property owner Greg Stoll is the developer for the project.
The hearing examiner for the city of Indianapolis' Metropolitan Development Commission is set to consider variance and rezoning requests for the project Feb. 26.
 
Please enable JavaScript to view this content.