Flaherty & Collins Properties' $121 million apartment-and-retail project, renamed 360 Market Square, is still 28 stories, but now will measure about 300 feet in height, roughly 70 feet shorter than originally envisioned.
Executives of Flaherty & Collins joined city officials to unveil the new name—the address of the site—at a ceremonial groundbreaking Wednesday morning.
The downsizing means the building project formerly known as Market Square Tower will no longer qualify as one of the 10 tallest buildings in Indianapolis. At 370 feet, it would have ranked ninth, just behind the 372-foot City-County Building and the 376-foot JW Marriott.
At 300 feet, it will still be the tallest apartment building in the state, squeaking by the 295-foot, 30-story Riley Towers buildings.
Original plans called for one level of above-ground parking in the tower. That level, with 176 spaces, will be below ground now, to bring units closer to street level, said Jim Crossin, Flaherty & Collins' vice president of development, after Wednesday morning's official groundbreaking.
"That was a rendering done before the building was engineered and designed," Crossin said of the original plans.
All told, the development will have 600 parking spaces, including 50 surface spaces and 370 on two levels above a Whole Foods store. The specialty grocer will occupy the bulk of the 43,600 square feet of ground-floor retail space. The project, which should be finished by the end of 2016, calls for 292 luxury apartments with floor-to-ceiling windows and panoramic views of the city renting for between $1,300 and $2,400 per month.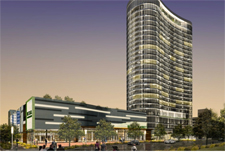 The final design of the building has changed from the original plan, morphing from a "basket-weave" to a "poker-stack" effect.
But Flaherty & Collins' officials say features such as the skywalk, and rooftop pool and garden are still included in the design.
"It may not be as tall as the original sketch, but the design is basically the same," said David Flaherty, CEO of Flaherty & Collins.
The project's architect is the Chicago office of Baltimore-based RTKL Associates Inc.
The design change that won't be noticeable is the single-level underground parking deck for anchor Whole Foods that wasn't included in the original plans. The underground addition and other construction-related price increases have bumped up the cost of the project, which was originally estimated at $81 million in July 2013.
The tower will be built on the parking lot northeast of Market and Alabama streets where part of Market Square Arena once stood.
"This is a remarkable project and has been a long-time coming on this particular site," Mayor Greg Ballard said at the groundbreaking. "We've had a couple hiccups, in the road, but we got it done."
The city has agreed to contribute up to $23 million in financing for the project.
 
Please enable JavaScript to view this content.