The design of a proposed 150-room, $55 million 21c Museum Hotel set to be built north of Old City Hall certainly adds some flair to an aging surface lot.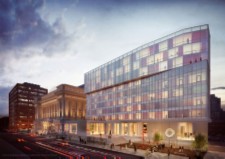 New York-based Deborah Berke & Partners Architects LLP is the architect on the nine-story project. If the name sounds familiar, it's because the firm designed what should be another signature building on downtown's east side—the headquarters for Cummins Inc.'s distribution operations.
Work on that building is set to start in April. If the 21c project is approved, it will begin construction by the end of this year and finish by early 2018.
Between the two buildings, in addition to Flaherty & Collins Properties' 28-story 360 Market Square apartment tower and the IndyGo transit center, the Market Square district will see a flurry of construction activity.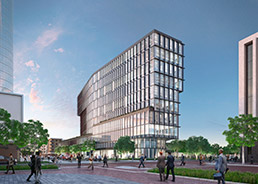 The Cummins building also was designed by Deborah Berke & Partners Architects. (IBJ Photo/ Perry Reichanadter)
The 21c hotel is part of a larger mixed-use development in which Old City Hall will serve as a public art gallery and hotel lobby.
The Louisville-based art-hotel chain has commissioned Deborah Berke & Partners to design all of its hotels—in Louisville, Cincinnati, Bentonville, Arkansas, and one set to open in the spring in Durham, North Carolina.
Please enable JavaScript to view this content.