Curt Churchman won't be reopening his Fine Estate Art & Rugs and Gallery Two businesses anytime soon following a major setback to his effort to rezone property in the Meridian Kessler neighborhood.
Churchman had operated the businesses for years at 5914 N. College Ave., next to Binkley's Kitchen & Bar, before closing them in early January. His plan was to reopen in a building he had agreed to buy for $350,000 at 4186 N. Broadway St. to the south, contingent upon his receiving a zoning variance.
Here's where his plan went awry.
A city zoning appeals board on Tuesday soundly rejected his request (4-0) after the Meridian Kessler Neighborhood Association and nearby St. Joan of Arc School voiced strong opposition to the gallery.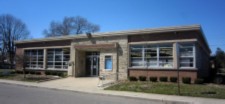 "They came in with such an emotional argument," Churchman said. "They want it to stay a community use."
The 1958 building (photo above) is owned by Kaleidoscope Youth Center, which operated a daycare there until March 2014. It was built for a library and housed the neighborhood branch until it moved in 2000 one block over on College Avenue.
Churchman hopes to reopen somewhere in the next few months, but likely will resort again to leasing space like he did on College Avenue. He wanted to own a building to avoid parking restrictions and paying what he considered high rent.
He's aiming to find space in the Meridian Kessler area at under $5,000 per month, though he knows "that will be difficult."
   
If he opens in smaller space than the 6,500 square feet he would have had on Broadway, he may put his rugs in storage and show them by appointment only, while focusing more on his art gallery.
Churchman opened his shop in 2003 at 65th Street and Carrollton Avenue before moving two years later to College Avenue. He first focused on historic Indiana art but began representing living Indiana artists last year with the opening of Gallery Two.
"Hopefully, as we come back, everybody will be excited to see us up and running," he said. "We've got a good, loyal following."
 
 
Please enable JavaScript to view this content.