Three local real estate professionals are teaming to embark on their first apartment project—an ambitious $13.5 million development in Broad Ripple featuring 99 units.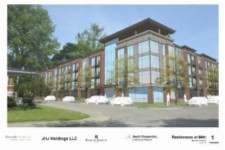 Michael Kosene and Chris Chabenne of Indianapolis developer Kosene and Kosene Residential, along with Nick Laviolette of F.C. Tucker Co. Inc., have formed JHJ Holdings LLC to build the project in the northern end of Broad Ripple Village.
Kosene, who is the son of Gerry Kosene and nephew of David Kosene, co-founders of Kosene and Kosene, said the three hope to develop more apartment projects but have no plans to leave their current jobs.
The four-story project, dubbed Residences at 66th, is set to be built at the northwest corner of East 66th and Ferguson streets just south of the Indianapolis Art Center. After receiving approval from the city earlier this month, the partners aim to start construction by the fall.
Kosene and Kosene will serve as construction manager for the Residences at 66th and also will manage the property. Demerly Architects is the designer for the project.
To make way for the project, the Village Montessori School will relocate about a half-block away on Ferguson Street. The developer also bought two homes on Ferguson, one of which was already on the market.
The L-shaped development will stretch from Northside Opti Park along 66th Street east to Ferguson Street and north along Ferguson.
A first-floor parking garage will contain 104 spaces, with one- and two-bedroom units above ranging in size from 560 square feet to 1,350 square feet and starting at about $1,000 per month.
Nine different floor plans will be available with floor-to-ceiling windows and 9-foot ceilings, Kosene said.
"Other than what Jamie Browning is doing, there's really no upscale housing on the north side [of Broad Ripple]," Kosene said. "There's a big opportunity there."
Construction on Browning Investments' $37 million apartment and retail project planned along the Central Canal is set to begin this month. A Fresh Thyme grocery will anchor The Coil and should open in spring 2016 with the 150 apartment units coming online in the following months.  
 
Please enable JavaScript to view this content.