A new art gallery could be coming to Massachusetts Avenue—in the form of a colorfully decorated shipping container.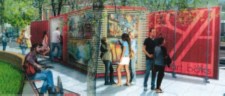 The Riley Area Development Corp. proposed placing the 8-foot-wide by 20-foot-long container near Davlan Park, at the northeast corner of Mass Ave and Alabama Street, from July 1 to Dec. 31 for up to five years annually.
The group wants to bring more art to the Avenue, since only two galleries remain in the area, said Eric Strickland, executive director of the Riley Area Development Corp.
"It represents some flexibility to display art, sell art in the park, and have a minimal impact on the area," he said.
But members of the Indianapolis Historic Preservation Commission questioned several of the shipping container's design elements and asked for more details from Strickland.
IHPC first heard the variance request June 3 and is expected to consider it again July 1.
Unlike other commercially zoned areas, there is no provision for temporary sales in the central business district.
 
Please enable JavaScript to view this content.