Local real estate firm Gershman Partners is moving forward with its plans to construct a four-story addition to a historic office building at the beginning of Massachusetts Avenue.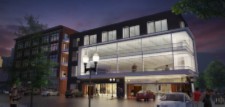 The company has finished design work and plans to start construction in the next 30 to 60 days on the 30,000-square-foot addition to the 109-year-old Marott Center, President Eric Gershman said. The architect on the project is Axis Architecture + Interiors.
Gershman Partners bought the Marott Center at 342 Massachusetts Ave. in December 2013 for nearly $3.3 million and an adjacent 90-space parking lot for $889,760, according to Marion County Assessor records. The addition will be constructed on a portion of the lot.
Plans show a multi-level glass atrium connecting the buildings, with the second and third floors enclosed by solar control glass. The addition would front both Mass Ave and Vermont Street but would be listed as 333 N. Delaware St., the address of the surface lot. (The image at top is the view from Mass Ave, and the second image is the view from Vermont Street.)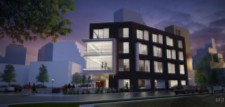 The addition will feature 7,500 square feet of retail space on the ground level.
Gershman Partners also will have 5,200 square feet of retail space available in the Marott Center, when the Walgreens walk-in clinic currently in the space closes. The Chicago-based drug store chain next month is set to open a pharmacy on the ground level of the 3 Mass condominium building, nearly across the street.
"We are looking to backfill the Walgreens space," Gershman said, "and we are in discussions with a lot of people for that space."
Massala Building
Office buildings on Mass Ave seem to be a hot commodity lately.
Wisconsin-based Hendricks Commercial Properties announced June 24 that it purchased the Massala Building at 341 Massachusetts Ave., and the adjoining parking lot, across from the Marott Center.
The company paid $3.8 million for the three-story, 118-year-old building, CEO Rob Gerbitz said.
The building is 100-percent occupied, Gerbitz said. The street level is leased by Louie's Wine Dive & Mass Avenue Kitchen, which opened in late May, and MacNiven's Restaurant & Bar, with office space on the second and third floors.
Hendricks sought out the building and was able to come to terms with a local ownership group. Whether Hendricks undertakes an expansion on the adjacent parking lot, similar to what Gershman Partners is doing at the Marott Center, remains to be seen.
"We bought it knowing that there is potential there, but ultimately, we bought it for what's there now," Gerbitz said. "If we can enhance it, we definitely would like to do that, at some point."
 
Please enable JavaScript to view this content.