The Ironworks apartment and retail project near Keystone at the Crossing on the city's northeast side has been so successful the developer is planning a second phase.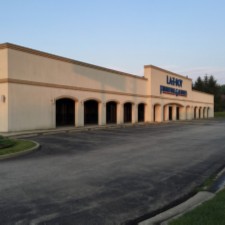 Wisconsin-based Hendricks Commercial Properties finished work last summer on the $30 million, five-story Ironworks on the site of the former Woodfield Centre shopping center, on the southwest corner of 86th Street and Keystone Avenue.
The development's 120-high-end apartments are fully occupied, Hendricks CEO Rob Gerbitz told Property Lines. Retail tenants include Ruth's Chris Steak House, Sangiovese and, coming later this month, B Spot Burgers.
Now Hendricks is beginning to plan the second phase, which would be built directly west of Ironworks where the former La-Z-Boy building sits (see photo above). The furniture retailer closed the store in December and moved about a mile east to the former Barnes & Noble bookstore space at Clearwater Crossing.
Hendricks paid $4.2 million for the 44,500-square-foot building and 5.3 acres of land, Marion County property records show.
"We really want to build on the success we've had," Gerbitz said. "We're really proud of what we've done there [at Ironworks]."
Hendricks is in the early stages of planning and is working with Ratio Architects on a design. Ideally, the structure would be built within the next two years, Gerbitz said.
"We don't like leaving empty buildings sit," he said. "Generally nothing ever becomes of vacant buildings."
The second phase would be smaller than Ironworks, with fewer units.
Real estate sources, however, say Hendricks also is considering building a boutique hotel there with a restaurant.
The idea has precedent. Hendricks has developed a 54-room Ironworks Hotel in its hometown of Beloit, Wisconsin. It includes a
steakhouse.
Please enable JavaScript to view this content.