We'll start this edition with the closing of an east-side staple.
 
• The Habig Garden Shops location at 1105 N. Arlington Ave. is set to shut its doors at the end of the month as the longtime family business consolidates operations.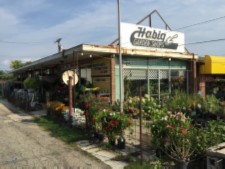 The Habig family also has stores at 1225 E. 86th St. in Nora, 15311 N. Meridian St. in Carmel and at 5201 N. College Ave. in the Meridian-Kessler neighborhood, all of which will remain open.
The east-side shop just north of Irvington's boundaries has operated since at least the early 1970s, said Steve Habig, who runs the business started by his father, Frank, in 1955 with two brothers and a sister.
"Over the years, we've seen it decline," Habig said of the Arlington Avenue location. "It's been somewhat of a challenge."
In Irvington:
• Vintage Motifs home decor and furniture store opened Aug. 29 at 5612 E. Washington St., Suite A.
Also on the east side:
• Love Handle opened Aug. 18 at 2829 E. 10th St. across from Pogue's Run Grocer. The local breakfast and sandwich shop features offerings of smoked brisket, beer mustard, braised cabbage, salmon, pork belly, garlic aioli, and sorrel. Hours are 8 a.m. to 2:30 p.m. Tuesday through Saturday.
• Rabble Coffee has opened at 2119 E. 10th St. across from Burger King. A startup menu features roasted red pepper quiche and bacon and cheddar quiche for breakfast; chicken salad, curry tofu salad, grilled turkey and Swiss, and grilled tomato pesto mozzarella sandwiches for lunch; and an assortment of desserts.   
Hours are 7 a.m. to 6 p.m. Monday through Friday, 8 a.m. to 6 p.m. Saturdays, and 8 a.m. to 3 p.m. Sundays.
Elsewhere:
• Rook's last day of service at 719 Virginia Ave. was Saturday. The Asian fusion restaurant will be closed for six weeks and then reopen at 501 Virginia Ave. in the new Slate apartment development.
• Brick and Mortar Barber Shop and Apothecary is "coming soon" to 126 N. Delaware St. in space across from City Market.
• Save-A-Lot plans to open a grocery store in the 16,500-square-foot former Marsh space at 7099 Michigan Road, according to a construction filing. The St. Louis-based chain operates five stores in Indianapolis and also plans to build a store in the Avondale Meadows neighborhood on the city's east side.
• Tom Wood Porsche will open its new, 25,000-square-foot facility at 3473 E. 96th St. on Thursday (Sept. 3).  
• Red Robin is building a restaurant at 8190 N. Shadeland Ave. next to Drury Inn near the Interstate 69 and East 82nd Street interchange. The Colorado-based burger chain has two outposts in Carmel, one in Noblesville and another in Plainfield.
From IBJ's North of 96th:
• Primanti Bros. plans to open its first Indiana location in Noblesville.
The Pittsburgh-based restaurant known for its sandwiches featuring coleslaw and french fries has filed plans with the city for a 5,500-square-foot location at 13871 Cabela Parkway, to the north of the recently opened, 82,000-square-foot Cabela's.
 
Please enable JavaScript to view this content.