Tini on Massachusetts Avenue is expanding again.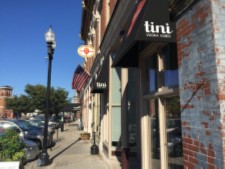 Brad Kime opened the martini and vodka bar at 717 Massachusetts Ave. in December 2011 and in February 2014 moved into the space next door formerly occupied by The Flying Cupcake.
Tini doubled in size  at that time to roughly 1,200 square feet. Now it will double in size again by taking the office space above.
The expansion enables Tini to have a disc jockey play music on the weekends. Tini employs a DJ on Wednesdays, Thursdays and Sundays but can't on Fridays and Saturdays because the bar gets too crowded and there's not enough room to dance.
The second floor will be outfitted with a bar, restrooms and open space for dancing, Kime said.
"If you want to dance on Mass Ave, there's not a lot of places to do that," he said, "so we're going to try to fill a void."
Construction should start in October and finish by the end of the year.
Tini also has hired a full-time chef, Asanti Horne, who has revamped the menu of small-plate offerings. They include red pepper hummus, baked goat cheese medallions, mini Tini nachos, Tini pork paninis, and goat cheese grape balls.
 
Please enable JavaScript to view this content.