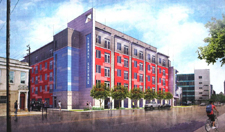 Two more apartment projects could join the growing list of multi-family developments springing up all over downtown.
The city's Regional Center Hearing Examiner was set Thursday morning to hear a proposal from Buckingham Cos. to build a five-story, 111-unit development at 923 N. Meridian St. That's the surface lot directly north of the Central Library.
Dubbed Library Square, due to its obvious proximity to the main branch, the project's ground level would consist of a parking garage wrapped on the south side by office and amenity space.  
Plans call for demolishing the vacant, one-story commercial building that bounds East Sahm Street at the north end of the property.
Buckingham hopes to start construction in the spring with completion expected in early 2018.
Construction materials would include masonry, metal panels, blue and red fiber-cement panels and store-front window glazing. The architect for the project is CSO Architects.
Meanwhile, the other apartment development would be built about three blocks to the east on property bounded by 9th Street to the south, East Sahm Street to the north, Alabama Street to the west and Fort Wayne Avenue to the east.
A group called Citadel Holdings LLC wants to tear down the vacant one- and two-story building on the site and build a five-story apartment complex with 80 units.
But getting the Indianapolis Historic Preservation Commission to sign off on the design is taking time.
Citadel received approval in June 2014 to rezone the site to allow for residential and to demolish the mid-century concrete-block building.
More than a year later, Citadel asked the IHPC on Sept. 2 for a variance to allow for 80 parking spaces, even though 128 are required, and to allow for 25 of the spaces to be reserved for small cars.
IHPC also still has concerns about the design and continued Citadel's request for a variance until Oct. 7. A handful of neighbors at the meeting earlier this month expressed concerns about the building's height, saying it's too tall for the neighborhood.
Others, however, support the project, saying the lot has sat empty long enough.
Axis Architecture + Interiors is the architect for the project. The design shown above is likely to change.
 
Please enable JavaScript to view this content.