Trinitas Ventures has started work on its $40 million, 11-story downtown apartment and retail project on a surface lot at the northeast corner of Michigan Street and Capitol Avenue.


Dubbed The Collegian (though the name could still change), the development targets IUPUI students and includes 193 units, up to 7,000 square feet of small-shop space, and a parking garage on a surface lot.
Trinitas provided Property Lines renderings of the project drawn up by architect Ratio Architects In
The project should be finished in summer 2017.
Trinitas has built several student-housing projects in college towns, including two each in Bloomington and West Lafayette, and others in close proximity to universities in urban areas.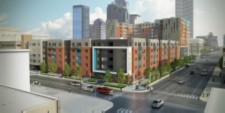 The development at Michigan and Capitol would be its third in Indianapolis. Trinitas built a $30 million, 253-unit project at 1201 Indiana Ave., which opened in August 2010, and a small project about 10 years ago near the University of Indianapolis on the south side.
Trinitas has sold both communities to provide it additional capital for more projects.
The Collegian will be split into two levels—an 11-story building at the south end and a five-story building at the north end of the lot. The four-level parking garage at the northeast corner of the property will be wrapped by the smaller residential structure.
Most of the retail space will front the corner of Capitol and Michigan.
Please enable JavaScript to view this content.