A long-awaited boutique hotel has opened on the north side.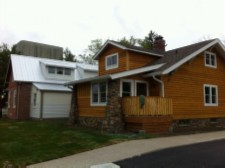 The nine-room Hotel Broad Ripple incorporates two properties, at 6520 and 6532 Westfield Blvd., and is operated by developer Debbie Stolen Hasbrook.
She bought the buildings in 2012 but first presented plans to the city of Indianapolis in 2010. The properties sit in a floodplain near the Monon Trail, a factor that delayed permitting.
The design incorporates the historic Merrill Stage building at the south side of the lot, which houses five guest rooms and common space. The other building has four rooms.
Built in the 1880s, the Merrill Stage building is one of the oldest in Broad Ripple. The roof needed to be repaired and the interior required renovations. The interior walls are now exposed and the outside brick has not been altered, said Hasbrook, who built a connector to join the two buildings.
"It's an ideal setting for our purpose because it's right on the Monon Trail and they're really nice lots," she said.
Daily rates range from $160 to $275.
In other Broad Ripple news:
• Public Greens, another restaurant by Patachou matriarch Martha Hoover, is set to open this summer in a vacant building at 64th Street and Cornell Avenue that resembles a train depot, also along the Monon Trail.
Hoover is leasing the building from the city of Indianapolis and plans to offer Patachou-style soups, sandwiches and salads. But the twist is that profit will benefit the Patachou Foundation, a not-for-profit that Hoover established last year to provide after-school meals to children in need.
The foundation so far has served 1,800 meals to Indianapolis Public Schools students enrolled in the after-school program at the near-eastside Legacy Center, Hoover said.
• Sangrita is taking 1,160 square feet formerly occupied by a Greek's Pizzeria at 834 E. 64th St. near Guilford Avenue. The owner of the building, Broad Ripple attorney Tarek Mercho, plans to operate the southwestern-style cantina with two partners. Sangrita is set to open July 1 and will feature craft margaritas.
Elsewhere:
• MCL Restaurant and Bakery's new 9,000-square-foot location along U.S. 36 at 121 Avon Village Parkway in Avon opened May 6. Founded in 1950, the locally owned MCL chain operates 18 restaurants in Indiana, Ohio and Illinois.
• Tom+Chee is opening in the northwest-side Traders Point shopping center, according to a sign in one of the storefronts. The tomato soup and grilled cheese sandwich chain opened its first location, in Cincinnati, in 2010. The franchise has about a dozen restaurants in Ohio, Kentucky, Georgia and New Jersey.
Tom+Chee offers more than 25 sandwiches, three daily tomato soup varieties, and salads. Its Grilled Cheese Donut has been featured on ABC's The Chew and Travel Channel's Man v. Food Nation, and was named one of America's best new sandwiches by NBC's Today show, according to the restaurant's website.
• Coalition Pizza, a fast-casual pizzeria also offering pastas, sandwiches and salads, opens May 12 in Carmel at 365 W. 116th St. in The Bridges development. Owners are Scott Nahmias, Steve Nahmias and Lenny Nahmias.
• Ollie's Bargain Outlet has filed plans to occupy 29,800 square feet at 5201 E. Thompson Road in Emerson Plaza on the city's southeast side. The Mechanicsburg, Penn-based retailer of closeout, excess inventory and salvage merchandise operates a store at 13670 N. Meridian St. in Carmel in the former Godby Home Furnishings space.
• AT&T and Chipotle together will occupy 7,200 square feet in a building to be constructed on an outlot at 8812 S. U.S. 31 north of County Line Road.
• Meijer is set to open a store May 15 in the Anson development in Whitestown, west of Zionsville near Interstate 65.
On the fast-food front:
• Sonic is seeking franchisees for its plans to open 75 drive-in restaurants in central Indiana within the next 10 years. Several of the restaurants have closed in recent years in the Indianapolis area, leaving only two, in Avon and Camby, according to the Oklahoma City-based chain's website.
• Dairy Queen has filed plans to build a 3,336-square-foot "Grill and Chill" store at 9802 N. Michigan Road in Carmel.
• McDonald's has filed plans to build a 5,553-square-foot restaurant at 1490 N. State St. in Greenfield to replace an older, existing location. The other Greenfield McDonald's is at 2290 N. Road 600 West.
Another longtime downtown-area restaurant has closed.
• Amici's Italian Restaurant at 601 E. New York St., near North Park Avenue, shut its doors late last month. A message posted by owners on its website thanked the city for 30 years of support. Property Lines reported May 1 that south-side staple Sisters' Place at 215 Terrace Ave., just off Madison Avenue, closed after 31 years in business.
 
Please enable JavaScript to view this content.