Guests of the $20.1 million hotel that Hendricks Commercial Properties is proposing to build next to its Ironworks apartment project at East 86th Street and Keystone Avenue wouldn't necessarily need to get in their cars if they wanted to visit the ritzy Fashion Mall a few hundred yards away.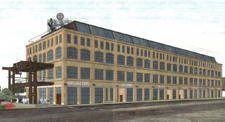 The Wisconsin-based company plans to install more than 1,100 feet of public sidewalk traversing Keystone and linking to an existing walkway to the east of the thoroughfare, according to plans filed with the city as part of its request for a two-year tax abatement to help offset project costs.
As IBJ was first to report in August, Hendricks plans to build the five-story, 120-room hotel (see rendering above) on nearly 5.3 acres where the former La-Z-Boy building sits, which is directly west of Ironworks along the south side of East 86th Street. Hendricks hopes to break ground in March and finish in about 14 months.
La-Z-Boy closed the store last December and moved about a mile east to the former Barnes & Noble bookstore space at Clearwater Crossing.
Residents of Ironworks undoubtedly would welcome a path to the mall and the surrounding Keystone Crossing area. There currently is no space for pedestrians along 86th Street as it runs under the Keystone Avenue overpass.
The new sidewalk would run along the south side of 86th Street, running under the Keystone overpass and crossing two related ramps, according to a map submitted to the city.
Hendricks is seeking a two-year tax abatement that would save the company $434,995 during the abatement period. The company is expected to pay $144,998 during that time.
The hotel should create 14 full-time jobs paying $27 an hour and roughly 75 part-time jobs.
The city's Metropolitan Development Commission is set to consider Hendricks' request on Wednesday .
Meanwhile, the hotel likely won't include the roof sign visible in the rendering above. Hendricks lobbied for the sign in late October when presenting its plans to the MDC Hearing Examiner Rex Joseph.
Hendricks argued that a roof sign removed the necessity for another pylon-type road sign along 86th Street and would provide a more visible marker for the hotel.
"The roof sign overcomes what is a practical difficulty," attorney Michael Rabinowitch said upon presenting the need for a zoning variance. "The Keystone bridge limits the view of the building until you're off Keystone on the exit ramp."
But Joseph disagreed, saying, "When I hear Ironworks, I know right away what you're talking about."
Hendricks has appealed his decision to MDC, which is slated to hear arguments, also on Wednesday. Planning staff has recommended denying the zoning variance.
The Driftwood Hills Neighborhood Association, which represents the residential area north of East 86th Street, argued against the roof sign, saying it would be a "big intrusion" on the neighborhood.
Ratio Architects is the architect on the project.
Please enable JavaScript to view this content.