The Minneapolis-based company that bought a historic office building on East Washington Street this month plans to embark on a $4.5 million renovation of the structure in hopes of attracting more tenants.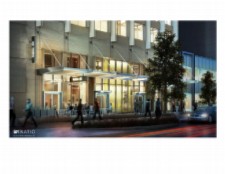 Onward Investors LLC paid $9.25 million in September to buy the 12-story building at 130 E. Washington St. from local owner Perennial Washington St. LLC. Onward plans to make major changes to its façade (click on rendering to expand) while also revamping the ground level for restaurant and other retail uses.
The building for years was known as the Disciples Center in deference to its largest tenant, the Christian Church-Disciples of Christ. The organization moved its 195-person headquarters in 2014 to downtown's Landmark Center, where it occupies 60,000 square feet.
The 203,250-square-foot building on East Washington is 55 percent occupied. Tenants include engineering firm Arcadis and the national governing bodies of USA Track and Field, Diving, Gymnastics and Synchronized Swimming.
In November, Onward received approval from the Indianapolis Historic Preservation Commission to make changes to the building's exterior.
Local architectural firm Vonnegut and Bohn developed the building in 1922 for Meyer Kiser Bank. Since the closing of the bank in 1931, it has housed several of Indiana's most prominent companies, including Farm Bureau Insurance. The company owned the building from 1960 to 2006.
In 1967, Farm Bureau built an addition to the original building and added the mid-century modern façade.
Onward plans to redesign the existing façade to enhance the building's street presence and restore the windows on the west half of the building to their historic proportions. An interior redesign will feature exposed ceilings, polished concrete floors, open floor plans and additional natural light.
Ratio Architects is the architect on the project.
 
Please enable JavaScript to view this content.