Heading into 2016, local retail activity still seems strong, highlighted by a couple of openings on Mass Ave and more.
• Broken Beaker Distillery expects to open Jan. 15 at 643 Massachusetts Ave., north of Ralston's Draft House.
The 3,400-square-foot distillery will make and serve everything from liqueurs to brandies and is operated by the husband-and-wife team of Thomas P. Wysocki and Heather Finfrock.
Four rotating local craft beers and a selection of wine also will be available. Appetizers and casual lunch and dinner options will be paired with the distillery's cocktails.
Broken Beaker will open at 4 p.m. Mondays through Fridays and at 10 a.m. on Saturdays. Brunch and morning cocktails will be served from 9 a.m. to 2 p.m. Sundays.
• The Eagle opened Dec. 15 at 310 Massachusetts Ave. in the building last occupied by The Front Page Sports Bar & Grill.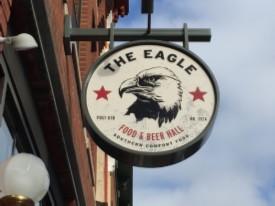 The Eagle, part of the Cincinnati-based group that operates the popular Bakersfield eatery on Mass Ave, is known for its signature fried chicken. Dinner service starts at 4 p.m. Tuesday through Sunday. Lunch hours are coming soon.  
Property Lines in May first reported The Eagle's plans to take the former Front Page space.
In Carmel:
• Developer Kosene & Kosene has filed plans to open a second Mimi Blue Meatballs restaurant, in 2,800 square feet of space at 12505 Old Meridian St.
Mimi Blue is taking the space that had been occupied by Crust Pizzeria Napoletana. Crust, in turn, plans to move to a nearby soon-to-be-announced location and should reopen in March, Crust owner Mohey Osman said.
Kosene in 2014 opened Mimi Blue at 874 Massachusetts Ave.  Named for the owner's mother, Mildred (Mimi) Bluestein Kosene, Mimi Blue features a plethora of meatball options.
• At Clay Terrace, The Wedding Studio, Heidi Pops Gourmet Popcorn, Grand Slam Sports and the Hand & Stone massage and facial spa have joined the outdoor shopping destination's lineup of stores.
At Keystone at the Crossing:
• A Jimmy John's sub shop and a T-Mobile outlet have opened in the Keystone Shoppes strip center on East 86th Street across from The Fashion Mall.  Teriyaki Madness should open by mid-January.
The fast-casual Teriyaki Madness offers a selection of appetizers, bowls and plates.
Simon Property Group Inc. spinoff WP Glimcher owns Keystone Shoppes and this past summer completed a two-year renovation of the property that features an upgraded facade, new storefronts, enhanced lighting, more sidewalks and updated signage.  
In Greenwood:
• Addison, Texas-based Bar Louie has re-entered the Indianapolis market by opening Dec. 17 in Greenwood Park Mall. A previous location closed in 2012 at Clay Terrace in Carmel.  
The new Bar Louie is operated by franchisee Frank Sweeney, who has agreed to bring three more locations to the area.
The mall location opened in 8,000 square feet of space formerly occupied by Bravo! Cucina Italiana  
In Zionsville:
• Richmond-based Noble Order Brewing Co. announced plans on Monday to open a taproom in downtown Zionsville, although the beer will still be made in Wayne County—at least for now.
Noble Order's nearly 3,000-square-foot tasting room will be located at 98 S. Main St. and is expected to open in late January or early February.
In case you missed it, check out North of 96th for more info.  
• Buffalo Wild Wings is set to open Jan. 10 in 6,400 square feet last occupied by D.C.'s Pub at 6537 Whitestown Parkway in the Marketplace at Anson.
Closings
• Aeropostale will be the latest retailer to vacate Washington Square Mall on the east side when it closes Jan. 31, following the departures of Kay Jewelers and Claire's.
Former Washington Square owner Simon Property Group gave up on the struggling mall last year and turned over control to a lender. The shopping center, which counts Target and Dick's Sporting Goods as anchor tenants, is now managed by Jones Lang LaSalle until a buyer is found.
• North Meridian Hardware closed in November after its owner filed in August to reorganize assets under the protection of Chapter 11 bankruptcy. The owner on Nov. 1 failed to make a $4,816 payment to lender First Merchants Bank, according to court documents.
Please enable JavaScript to view this content.