Property Lines' first retail roundup of the year kicks off with the latest creation from a local restaurateur:
• Vida is set to open Feb. 2 where Amici's Italian Restaurant formerly operated downtown at 601 E. New York St. Mike Cunningham bought the building and properties to the east and south as part of a major renovation of the 150-year-old structure.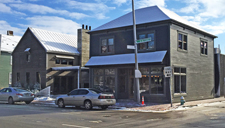 Check out today's Real Estate Weekly for more info on Vida and Cunningham's plans for the parcel behind the restaurant.
Also downtown:
• N Dulge clothing store has taken the former Wet Seal space on the third floor of Circle Centre mall.
In the Lafayette Square area:
• Mama P's American Bakery & Cafe has partly opened at 3990 Georgetown Road. The bakery is open, and the cafe is coming soon.
• Sahara Grocery is set to open next month at 4640 W. 38th St. The grocery specializes in foods from Russia, Ukraine, Lebanon, Greece, Turkey, Egypt and Palestine.
Elsewhere in the city:
 
• Wild Birds Unlimited is taking the 3,600-square-foot space vacated by Subway in the Clearwater Crossing shopping center on East 82nd Street anchored by Babies R Us.
Workers are beginning to prepare the space for Carmel-based Wild Birds, which expects to move in the summer from its nearby location at River's Edge Shopping Plaza.
Jim Carpenter started the Wild Birds franchise in 1981 and owns the north-side store that will be moving. He said River's Edge is an "incredible retail center" that has become so busy that customers are having a difficult time picking up the popular 20-pound bags of birdseed.  
Wild Birds nationwide has 295 stores, including locations in Carmel, Noblesville, Avon and Greenwood.
• In turn, the Subway sandwich shop in Clearwater Crossing is moving to space last occupied by Cookie Cutters Haircuts For Kids.
• Discount Tire opened at Ruth Drive and Keystone Avenue where the Chinese Ruby restaurant once stood.
• Planet Fitness is "coming soon" to Keystone Plaza at 52nd Street and Keystone Avenue in part of the space formerly occupied by a Target store.
• Sky Zone Trampoline Park plans to open its third Indianapolis-area location, at 4150 Kildeer Drive on the south side in the former location of Indy South Sports Academy. The Los Angeles-based franchise has about 110 locations nationwide, including one in Fishers and another in Plainfield.  
• Plato's Closet on the east side relocated Jan. 7 from 9972 E. Washington St. to larger space to the west at 9391 E. Washington St. in the Washington Village Shoppes.
The Minneapolis-based chain buys and sells gently used clothing and accessories for teens and young adults. Other metro locations are in Avon, Fishers and Greenwood.
In Brownsburg:
• Crew Carwash opened a location Dec. 27  at 1275 N. Green St. in Brownsburg. The carwash is Crew's 27th in central Indiana and its first to be built since the split with Mike's Carwash.  
The $4 million facility features LED lighting, advanced soap and detergent delivering technology and an environmentally conscious water reclamation system that cleans and reuses water during certain parts of the washing process. In addition, an exclusive automated lane is available that allows customers who have purchased the "Unlimited Washes" monthly plan to bypass traditional lines for a quicker wash.
Closings:
• 60 Minute Cleaners closed its location Dec. 31 at 4838 N. College Ave. Its store at 5701 N. Michigan Road, a block north of Kessler Boulevard, remains open.
• Latitude 360 at 4016 E. 82nd St. closed Jan. 7. The company announced the closure and another in Jacksonville, Florida, in a press release. The local closing was part of a settlement with landlord 30 West Pershing LLC, which was owed about $3.1 million in unpaid rent.
• Eddie Bauer is closing its store at Castleton Square Mall. The Circle Centre mall and Clay Terrace locations will remain open.
• The Rainbow Apparel clothing store at 5341 E. Thompson Road has closed.
• Long Acre Bar & Grill at 4813 Madison Ave. on the south side stopped serving customers in late December.
Please enable JavaScript to view this content.