Goodwill Industries of Central Indiana is hopping on the Fountain Square bandwagon in a big way.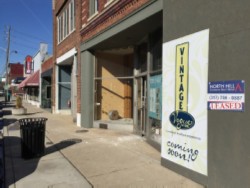 A Vintage Vogue by GW boutique—just Goodwill's second in Indianapolis—is set to open in the historic neighborhood Feb. 4—followed by a traditional donation center in the former Bud's Supermarket building in late spring or early summer.
Vintage Vogue will take 2,500 square feet at 1056 Virginia Ave. in the heart of Fountain Square, across from the Murphy Arts Center.
It's much smaller than the not-for-profit's typical outlets and sells higher-end clothing of interest to fashionistas. Goodwill opened its first Indianapolis-area Vintage Vogue in June at 2361 E. 62nd St., in the Glendale area.
"We had our eye on Fountain Square for a really long time," Goodwill spokeswoman Cindy Graham said. "But you shouldn't expect to see the growth of our boutiques like a traditional store. It's pretty targeted when it relates to expansion."
Goodwill's other Vintage Vogue store is in Bloomington. The shops offer brand-name labels and vintage-type items sorted from donations to Goodwill's thrift centers.
The vintage stores are nowhere near the size of a typical, 16,000-square-foot outlet and target a different audience, Graham said. Neighborhood institution Bud's Supermarket at 1260 Shelby St. closed in November, paving the way for Goodwill's new thrift outlet to occupy the 14,500-square-foot building.
Bud Martin, who started the grocery nearly 40 years ago, retired and is leasing the building to Goodwill.
Goodwill has yet to settle on a name but hopes to ensure that there's "a clear distinction" between it and the nearby Vintage Vogue location, Graham said.
Overall, Goodwill has about 40 stores in the Indianapolis area.
 
Please enable JavaScript to view this content.