The massive Circle City Industrial Complex on downtown's northeast side has attracted another outlet for alcohol production.
8th Day Distillery plans to occupy about 6,000 square feet in the complex at 1125 E. Brookside Ave., according to a construction filing.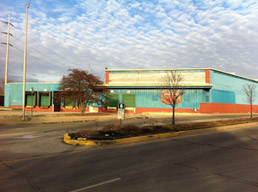 The complex at 10th Street and East Brookside Avenue is being redeveloped as a center for "makers." (IBJ file photo)
Larry Jones of Teagen Development Inc., which is redeveloping the building, said the distillery should be open in June.
8th Day would join Centerpoint Brewing at the complex and a small but growing list of distilleries in the downtown area.
Hotel Tango Whiskey launched in August 2014 at 702 Virginia Ave. in the Fletcher Place neighborhood and offers gin, vodka, rum and moonshine (unaged whiskey). Broken Beaker Distillery opened in late February at 643 Massachusetts Ave.
The distilleries are the result of a 2013 state law that cleared the way for licensed artisan distillers to produce no more than 10,000 gallons of spirits (vodka, gin, whiskey, etc.) for sale by the drink, bottle or case from the location where the liquor was made.
Meanwhile, Centerpoint will take 17,500 square feet in the industrial complex and hopes to open a tasting room and production brewery by May. The owners are Rose-Hulman graduates and beer enthusiasts Jonathan Robinson, Peter Argiris and Jeff Ready (CEO of Scale Computing).
Efforts are under way to convert part of the 539,000-square-foot complex into "maker space"—a collaborative area where artisans have access to industrial tools and programming.
Building owner Teagan Development and the Riley Area Community Development Corp. are renovating the south end of the complex—a portion that is roughly 120,000 square feet. The maker space will take about a quarter of that, with the rest allotted for restaurants, retailers, offices and studios.
The north end houses several manufacturers.
Please enable JavaScript to view this content.