The large mixed-use project proposed for Broad Ripple that would be the village's tallest building yet calls for 105 apartments and 5,000 square feet of street-level retail at 6311 Westfield Blvd., where a three-story office building now stands.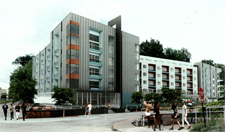 IBJ reported in its April 25 issue that the 80-foot, six-story building would rise higher than Browning Investments' 150-unit Coil project along the Central Canal at College Avenue, which will stand 75 feet tall when finished.
Renderings for the Westfield project weren't available at press time last week but since have been filed with the city. The Metropolitan Development Commission's hearing examiner is set Thursday to consider a request to rezone the property with variances.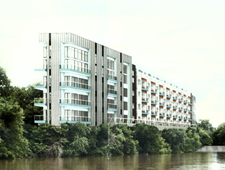 The variances are needed to exceed a height restriction for that area of 65 feet and to provide 110 parking spaces on two levels when 128 are required for a project that size. Department of Metropolitan Development staff recommends approval of the requests.
The nearly one-acre property on Westfield is adjacent to where the canal converges with the White River and offers scenic views of the waterways. It is owned by Birch Tree LLC, an entity of Newpoint Parking owner Todd Morris.
The 15,000-square-foot building currently standing on the property was constructed in 1990 and would be torn down. Morris bought the building in 2006 from Sherry Rising-Moore, a Broad Ripple property owner, and paid $1.8 million, according to county assessor records.
Blackline Studio is the project architect.
Please enable JavaScript to view this content.