Local restaurateur Mike Cunningham is preparing to open another Bru Burger Bar—this one in Plainfield.
Cunningham told Property Lines that he's signed a lease to occupy 8,500 square feet in the Shops at Perry Crossing (formerly Metropolis mall). He hopes to be operating sometime early next year.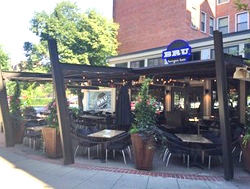 The space is much bigger than a typical Bru Burger restaurant. The one downtown on Massachusetts Avenue (see accompanying photo) is 2,900 square feet, for instance. Other Bru Burgers are in Carmel, Cincinnati and Lexington, Kentucky, with another under construction in Evansville.
To help downplay the vast space, Cunningham plans to have what would be outdoor patio seating inside the building under glass. He's also considering a community room for public use.
The space in the mall originally housed Centro Italian Kitchen, followed by a Teddy's Burger Joint. Most recently, mall ownership rented the space on weekends to an under-21 club.
The Shops at Perry Crossing is roughly 85 percent occupied and anchored by JC Penney, Dick's Sporting Goods, Barnes & Noble and Carmike Cinema.
Former Indianapolis-based development firm Premier Properties USA Inc. spent $160 million to develop the 600,200-square-foot shopping center, which opened in 2005.
Metropolis fell into court-appointed receivership in 2008 and was bought in December 2013 by affiliates of Memphis-based Poag Shopping Centers LLC and Blue Vista Capital Management LLC in Chicago.
They rebranded the mall and, with Plainfield's assistance, are spending $9 million to revamp the property.
"We wouldn't be doing this if we didn't think the mall had a bright future," Cunningham said. "We have had a Stone Creek [restaurant in Plainfield] for the past 10 to 11 years. It's always been a good location for us, even though the mall has struggled."
Besides Plainfield, Cunningham Restaurant Group operates Stone Creek Dining Co. locations in Greenwood, Noblesville and Zionsville. Its downtown Indianapolis restaurants—other than Bru—include Mesh, Union 50 and Vida.
 
Please enable JavaScript to view this content.