We'll kick off this retail roundup with promising activity in Broad Ripple:
• Louie's Wine Dive is poised to take prime retail space in Broad Ripple that, despite its high visibility, has sat vacant for the past five years.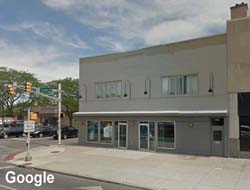 The Overland Park, Kansas-based restaurant is coming to the southeast corner of College and Broad Ripple avenues (see accompanying image), across from Hop Cat, according to building permits posted on the window.
Louie's entered the Indianapolis market in May 2015 when it opened at 345 Massachusetts Ave. in the Massala Building. The first Louie's opened in 2012 in Des Moines, Iowa. The chain also has outposts in Overland Park; Kansas City, Missouri; St. Louis; Omaha, Nebraska; and Waukee, Iowa.
Noblesville's Barley Island Brewing Co. last occupied the space, from 2009 to 2011. Before that, Scholar's Inn was there from 2004 to 2009.
• Geeks Seafood, Salad & Subs has opened at 6336 Guilford Ave., formerly occupied by Greek's Pizzeria.
Downtown:
• Penn Station East Coast Subs is closing its high-visibility location across from Circle Centre mall at 24 W. Washington St. A sign in the window said it would move  to 3429 S. East St., where Penn Station already operates an eatery.
• Good Games at 111 S. Meridian St., south of the Hampton Inn, says its doors will open Aug. 18. The Indianapolis store will be the Australian-based company's first in the United States.
Good Games stocks an array of games and hosts gaming tournaments and events.
Elsewhere:
• City Market tenant Circle City Soups is opening a second location in Lawrence on the Ivy Tech Community College campus at Fort Benjamin Harrison. The soup and sandwich shop should begin welcoming customers in early September, the restaurant's Facebook page says.
 
Please enable JavaScript to view this content.