One of the pioneers of the specialty-grocery movement is expanding its northeast-side store.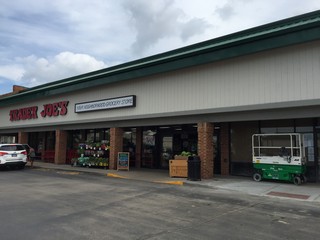 Trader Joe's at 5365 E. 82nd St. in Castleton Point is growing from 10,000 square feet to 12,000 square feet by taking space to the west formerly occupied by Scandinavian Comfort. (See accompanying photo of store and adjacent storefront.)
The expansion should be finished in mid-October, said Alison Mochizuki, spokeswoman for Monrovia, California-based Trader Joe's.
"We feel the expansion will enhance the customer experience," she said while declining to provide specifics.
The Trader Joe's at Castleton Point opened in 2001 and is one of two stores the company operates in Indianapolis. The other is at 2902 W. 86th St. on the city's northwest side.
Since its arrival, other specialty grocers have inundated the Indy market, as organic and uniquely sourced  foods have become more popular. They include Earth Fare, Fresh Thyme Farmers Market, Market District and Whole Foods.
Fans of Trader Joe's, however, will be pleased to learn the grocery will have a presence in Castleton for at least another decade. John Beuoy, a broker at The Broadbent Co. (Trader Joe's landlord), said it has renewed its lease for 10 years.
Trader Joe's has roughly 450 outposts nationwide and was founded in 1958 as Pronto Market. The first Trader Joe's store opened in 1967 in Pasadena, California.
While a typical grocery store might carry 50,000 items, Trader Joe's only stocks about 4,000 items—80 percent of which bear one of its own brand names. Products include gourmet foods, organic foods, vegetarian foods and unusual frozen foods.
Of course, Property Lines would be remiss if it didn't mention the Two Buck Chuck bottles of Charles Shaw wine (which now is technically Three Buck Chuck).
Also in Castleton Point:
Ross Dress for Less is set to open Oct. 4 in the former Clark Appliance space at 5415 E. 82nd St. The Dublin, California-based discount clothing and home goods retailer operates 1,274 stores in 34 states, the District of Columbia and Guam.
And also on East 82nd Street:
Logan's Roadhouse has closed. The restaurant, at 4825 E. 82nd St. in the Clearwater area, became a casualty of the Nashville, Tennessee-based chain's financial troubles. The company on Aug. 8 filed to reorganize under Chapter 11 bankruptcy protection. Restaurants in Greenwood, Noblesville and Plainfield remain open, according to the Logan's website.
Please enable JavaScript to view this content.