New redevelopment plans are emerging for the Coal Factory property in Irvington after the current owners encountered unexpected cost overruns and other problems.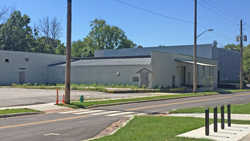 An entity called Irvington Brewing Real Estate LLC—investors Justin Miller, co-owner of Black Acre Brewery on East Washington Street, and Irvington property owner Bill Shank—owns the 3-acre site on the southeast corner of Bonna and Ritter avenues.The partners had hoped to convert the property to a mix of restaurants, retail and artisan food production.
But they've reached an agreement to sell the site—which includes a 50,000-square-foot building (see accompanying image)—to Third Street Ventures LLC, led by Antone Najem. He partnered with the not-for-profit Irvington Development Organization several years ago to build the $11 million Irvington Lofts affordable housing project at the site of the former Indy East Motel at 5855 E. Washington St.
Third Street is proposing affordable housing units at the Coal Factory site with some retail space. Plans call for demolishing part of the existing structure but saving the rear part of the property where Black Acre has expanded its brewing production.
Najem envisions between 50 and 55 units, and 7,000 square feet of commercial space.
"We're really excited about working with Irvington again," he said. "It's a very complex opportunity, but we think we can enhance what's going on there."
The one-time coal depot formerly served as the headquarters for Foam Craft.
The Irvington Development Organization backs Najam's plans.
"We'll be supportive of almost anything that will make that weedy, muddy, ramshackle location vibrant again," IDO Executive Director Margaret Lawrence Banning said. "To say that it's underutilized is an understatement."
The site could get a boost from Chris Baggott's eatery project to the east, at 128 S. Audubon Road. The ExactTarget co-founder and entrepreneur bought a strip center on the site of the former Irvington town hall and is bringing to the site a Mug restaurant—his second Mug since launching the restaurant in Greenfield in 2014.
Also planned for two additional storefronts at the strip are a small grocery store, perhaps similar to Goose the Market in Fall Creek Place or Wildwood in Fountain Square, and a gastropub.  
Najam, meanwhile, plans to apply for federal affordable housing tax credits in November. Winners of the credits typically are announced in February.
Please enable JavaScript to view this content.