A once-mundane downtown intersection is transforming into a hotbed of residential activity and enhancing the prospects for future development in the new Market East District.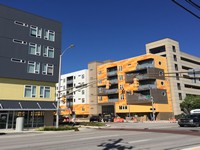 A Bloomington developer is adding to the activity, by proposing to build an apartment project on the surface lot at the southeast corner of Market and East streets. If it comes to fruition, the development would put rental housing on three of the four corners of the intersection. A Wheeler Mission homeless shelter sits at the northeast corner.
"It probably would have, in prior years, made more sense to be a commercial development area, but we don't seem to be developing new office buildings downtown," said George Tikijian, senior managing director of the Tikijian Associates apartment brokerage. "Until the downtown market is overbuilt for residential, you'll just continue to see the expansion into adjacent new areas for housing."
Developer Sib Sheikh wants to build 69 units in two phases and 3,400 square feet of retail space on the surface lot there, according to a city filing.
The first phase would consist of a five‐story building with 32 units and 17 covered parking spaces, with the second phase consisting of 37 units, 24 covered parking spaces and the retail space, which would front East Street.
Sheikh declined to discuss the project or provide renderings before presenting plans to the city. Plans originally were set to be considered at Thursday's Regional Center hearing examiner meeting. The case, however, was expected to be continued.
The architect on the project is Demerly Architects of Indianapolis.
The corners of Market and East streets began transforming in 2013, when Milhaus Development LLC built its 258-unit Artistry apartment project in the former Bank One Operations Center along South East Street, between East Washington and Market streets.
Milhaus followed up with a 242-unit second phase of Artistry, the Mentor and Muse projects to the west, and now is finishing its wrap of a parking garage (pictured above) to the north along East Market.
That project entails building 52 apartments to front the exterior of the garage, essentially creating a five-story, one-unit-thick corridor of housing along the stretch. One lane of Market Street, which spanned four lanes there, has been vacated to help make way for the development.
Please enable JavaScript to view this content.