Today's retail roundup begins with a new tenant in Circle Centre mall:
One of the corner spots in Circle Centre mall's food court has found a new tenant with cuisine designed specifically for people walking through.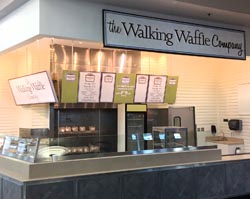 The Walking Waffle Company, a confectioner based in Carmel that until now has focused exclusively on Indy-area farmers' markets, has agreed to a short-term lease for the location and could open as early as this weekend, co-owner Stephanie Lewis told Property Lines.
"This is a new venture for us, to break out of the farmers' market mold," Lewis said. "This is the first time we've done any kind of bricks-and-mortar thing. It's a short-term lease. We're kind of feeling it out."
The menu will be simple, based on the Belgian sugar waffles that Lewis and her co-owner husband, Mark, have been offering for nine years at the Carmel Farmer's Market. A Circle Centre official recently approached them about opening in the mall, she said.
The Lewises also own Carmel's Kitchen, a commercially licensed facility at 1025 W. Main St. where the waffle batter is made. The delicacies are prepared so that they can be eaten on the go.
Friends and family members likely will help staff the Circle Centre location, as both Stephanie and Mark keep their full-time jobs. "We'll try to be there as much as possible," Stephanie said.
That corner spot in the mall has been a revolving door in recent years for vendors. Jiallo's African Caribbean Cuisine opened in late 2014 and closed the following May. Prior to that tenant, the space was occupied by Mexican eatery Currito, which closed in mid-2013.
Other news:
— The new Goodwill thrift store in Fountain Square celebrates its grand opening Tuesday. The 9,800-square-foot store at 1260 Shelby St. occupies the former Bud's Supermarket building and is the 55th store location for Goodwill Industries of Central Indiana.
Goodwill opened a Vintage Vogue boutique location in Fountain Square at 1056 Virginia Ave. about nine months ago.
— Community Health Network announced Tuesday that three Wellspring Pharmacies locations will be converted to Walgreens pharmacies to be owned by the national retailer. The change will affect the Wellspring stores in Community Hospitals East, North and South. The planned opening date for the Walgreens stores is Dec. 19.
Please enable JavaScript to view this content.