Patrick Burtch
A new Fountain Square record store promising live performances and beer and wine is set to open Nov. 4 with an appearance by Minnesota country bluesman Charlie Parr.
Patrick Burtch, owner of the recently closed Rocket 88 Doughnut shops, and two partners are launching Square Cat Vinyl at 1054 Virginia Ave., in vacant space next to Goodwill Industries' Vintage Vogue store.
The partners are investing about $100,000 in the 2,000-square-foot leased space that will feature new and used albums, a stage with a furnished high-end sound system, and a small bar serving beer, wine and coffee.
Burtch opened Rocket 88 at 874 Virginia Ave. in December 2014 and followed up with a second location at 4909 N. College Ave.
The shops quickly amassed a loyal following by using organic ingredients in their doughnuts and providing vegan options. But Burtch announced in an Oct. 17 Facebook post that he closed the stores to focus on his new venture.
"Originally, I thought Rocket 88 would keep going," Burtch told Property Lines. "But it became apparent that I couldn't do both. Music is more my interest and passion."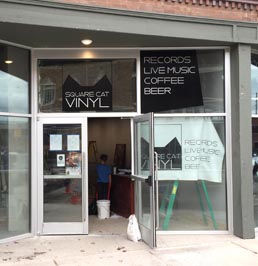 Square Cat Vinyl will open in November. (IBJ Photo/Scott Olson)
Rocket 88 could resurface. Burtch said he's received interest from others who might want to take over the business.
In the meantime, Burtch has partnered with Mike Angel and Kurt Phillips to start Square Cat Vinyl. Angel is the singer and guitarist of local folk band Bigfoot Yancey, and Phillips owns the Fountain Square Animal Clinic and Mass Ave Animal Clinic.
Burtch and Angel organized the first Virginia Avenue Folk Fest in May and hatched the idea for a record store from the partnership, Burtch said.
Hours will be 11 a.m. to 7 p.m. Monday through Thursday and 11 a.m. to 10 p.m. on Friday and Saturday. All ages are welcome.
Please enable JavaScript to view this content.