We'll start off this roundup with new eateries coming to Mass Ave:
• Thaitanium, presumably a Thai food restaurant, is "coming soon" to 735 Massachusetts Ave., in the space last occupied by French creperie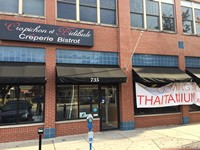 Cropichon et Bidibule (see photo). Cropichon's one-year stint there ended in April.
• Garden Table is set to open by the end of the month in the Marott Center's former Walgreens space at 342 Mass Ave. Garden Table offers fresh-pressed juices and breakfast and lunch plates. Garden Table's original store and eatery at 908 E. Westfield Blvd. in Broad Ripple will remain open.
• Next to the Marott Center, The Kitchen, a Colorado-based restaurant group, announced Nov. 1 that it will open its first modern American bistro, in Indianapolis.
The group has signed a lease to occupy 5,500 square feet for the yet-to-be-named restaurant on the ground floor of The Marietta office building under construction in the 300 block of Mass Ave. Indianapolis-based Gershman Partners is developing the four-story, 30,000-square-foot addition to the Marott.
The Kitchen was co-founded by Hugo Matheson and Kimbal Musk, younger brother to high-tech entrepreneur Elon Musk.
A few more downtown steakhouse additions to add to the list:
• Hyde Park Prime Steakhouse started serving dinner Oct. 27 in the historic Illinois Building at the corner of Illinois and Market streets. Lunch service starts Dec. 5. The location is the Beachwood, Ohio-based restaurant's 12th.
• Char Blue Steak and Seafood is now open at 14 E. Washington St. following a transformation from the Georgia Reese's Table & Bar, which opened there in May 2015. Restaurateur Gary Brackett, a former Indianapolis Colts linebacker, said he made the change because he was unable to fully realize the upscale-soul-food and live-jazz concept in the downtown location because of lease issues.
Time to get your geek on:
• ThinkGeek opens Nov. 4 at Greenwood Park Mall, the first of two stores coming to the metro area. The other is set to open Nov. 11 in Castleton Square Mall.
The Fairfax, Virginia-based retailer stocks merchandise that caters to the "geek culture," including Star Wars, Harry Potter and Doctor Who-themed items.
ThinkGeek is owned by GameStop and has a dozen locations with 11 more on the way, including the two local stores, according to its website.
On the franchise front:
• A Which Wich sandwich shop is set to open Nov. 21 in the food court of The Fashion Mall at Keystone at the Crossing. Owner Scott Crepeau also owns locations on West 10th Street and in Carmel, Fishers and Bloomington.
• Pie Five Pizza Co. opens an outpost Nov. 3 at 5320 E. 82nd St., Suite 104, in the Castleton Crossing shopping center.
• Pita Pit is scheduled to open its third Indianapolis location, on Nov. 7 in ground-level space of the parking garage on the Butler University campus.
The location will be the fourth in the state for Travis Sealls, a Butler graduate.
• Fresh To Order franchisee Charles Hensley has signed his first metro-area lease, at 13230 Harrell Parkway in Hamilton Town Center in Noblesville.
The former franchisee of several McAlister's Deli locations plans to bring 10 Fresh To Order restaurants to Indianapolis, making the city only the second location in the Midwest for the fast-food company that focuses on healthy selections.
Elsewhere:  
• Centerpoint Brewing opened Oct. 29 in the Circle City Industrial Complex at 1125 E. Brookside Ave. on the east side of downtown. Production focuses on four signature beers—Kolsch, Porter, Red IPA and Belgian Dubbel—along with specialty and seasonal selections. Home brewers and Rose-Hulman Institute of Technology graduates Jonathan Robinson, Peter Argiris and Jeff Ready (CEO of Scale Computing) are co-founders.
• Goodwill Industries of Central Indiana Inc. opened its latest thrift store Oct. 25 at 1260 Shelby St. in the former Bud's Supermarket in Fountain Square.
• Aldi is set to reopen its Lebanon store Nov. 10 following a major renovation.
• Pet Value opened a store at 931 N. Green St. in Brownsburg. The retailer of premium pet foods, treats, toys and accessories also has locations in Carmel, Zionsville and on the south side of Indianapolis at 5855 Madison Ave.
• GetGo Cafe + Market has opened its fourth area convenience store, at 6990 Pendleton Pike.
Closings:
• Applebee's has shut the doors to its Broad Ripple restaurant at 1072 Broad Ripple Ave.
• Istanbul Cafe Mediterranean Cuisine, which opened in 2007 at 1450 W. 86th St. near Ditch Road, has closed. Its website says the closing is temporary and to watch for updates.
Please enable JavaScript to view this content.