A 100,000-square-foot Kroger grocery under construction on the city's far-southeast side will anchor a larger, $30 million retail development in an area experiencing an influx of residential projects.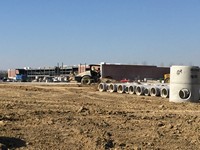 Locally based Douglas Realty Group is developing the Kroger Marketplace store at the northwest corner of Southport and Franklin roads. Marketplace stores, which can be as large as 125,000 square feet, are the Cincinnati-based chain's largest locations.
The store is expected to open next summer and is part of Kroger's wide-ranging plan to beef up its operations in central Indiana, including creating or remodeling dozens of stores, establishing a regional training center, and creating an estimated 3,440 jobs.
Several residential developments have creeped into the once-rural area, prompting Kroger to target the site.
Besides its agreement with Kroger, Douglas Realty has entered into a contract with McDonald's for a restaurant at the eastern-most outlot that should open in early 2018, Douglas Realty principal Doug McAuley said.
A 22,000-square-foot strip center is also part of the development, in which four tenants so far have been signed. They are La Rosa Mexican Restaurant and Bar, Papa John's Pizza, Pet Valu and Super Cuts, McAuley said. Space should be available for five additional tenants.
Douglas Realty is building the development on 60 acres of farmland that it purchased. The tract includes 30 acres that the developer is reserving for another project. That could include medical office, senior housing and self-storage, McAuley said, and add $10 million to $15 million to the development cost.
Douglas Realty has developed several grocery-anchored projects in the Indianapolis area. It helped build the Kroger at 71st Street and Binford Boulevard on the northeast side. Other projects include Walmart Neighborhood Market stores at 5550 Fall Creek Parkway and at the southwest corner of Michigan Road and Kessler Boulevard on the west side.
Please enable JavaScript to view this content.