Two projects could bring more residential units to the bustling Fountain Square and Fletcher Place neighborhoods.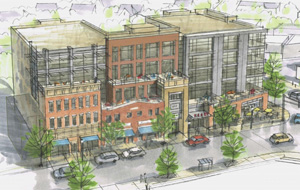 The larger proposal (top image, click for larger view), which would be developed by Indianapolis-based Pearl Cos., calls for 74 units and 10,000 square feet of retail space on Virginia Avenue in the heart of Fountain Square.
The other (bottom) would include 1,200 square feet of retail and three for-sale condominiums in a newly constructed, three-story building in Fletcher Place led by Bluebeard restaurant owner Edward Battista and business partner Sam Sutphin.
Both groups presented their plans on Nov. 2 to the Indianapolis Historic Preservation Commission at what's known as a preliminary hearing, where IHPC provides feedback but takes no action.
Pearl's plans include adding floors to two existing buildings and demolishing the one-story structure on the adjacent lot at the northeast corner of Virginia and Woodlawn avenues that housed the A&M Auto 2 shop. A 60-space underground parking garage for apartment tenants also would be constructed.
Overall, the development would feature three, five-story buildings by constructing a new building on the lot and incorporating the facades of the two existing buildings into larger structures. The current three-story building at 1024 Virginia Ave. houses Athena's Fashion Boutique, and the neighboring two-story building at 1028 Virginia is home to Lilly's Soap Kitchen and an antique shop.
"Architecturally, we think it needs to be a balance of old and new," said Craig Gossman, a Cincinnati architect, at the preliminary hearing.
But IHPC members expressed concerns that the plans didn't retain enough of the two buildings' historic nature and that five stories might be too dense for the area, given the heights of the surrounding buildings.
"That part of Virginia Avenue doesn't have that same scale as the block to the south," IHPC President Bill Browne said. "I feel like it's a little too tall."
Pearl President Brad Richey told commission members that he's unsure when the developer officially will present plans to the IHPC but said he will discuss the project with neighbors first to get more feedback. Richey did not respond to an IBJ request for further comment.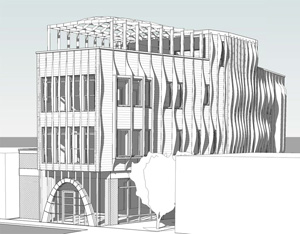 Meanwhile, at 638 Virginia Ave. in Fletcher Place, Battista and Sutphin want to tear down the vacant, one-story structure at 638 Virginia Ave. where restaurateur Neal Brown had planned to open a taco joint before encountering resistance from neighbors.
The 1,200-square-foot building's poor shape and wood façade that was added later makes it an ideal candidate for demolition, Battista said.
"The amount of money it would take to bring this building back to life wouldn't be worth the time and effort," he said. "It doesn't really have a historic tie to the neighborhood."
But IHPC member Bruce Stauffer said the new design goes too far and "almost screams we're not trying to have any connection with the historic neighborhood."
Parts of the design will likely change, but the general size, massing and aesthetic of the building is what they want to achieve, Battista said.
The three-story building would total 7,000 square feet and include four stalls of covered parking at the rear. Two condo units would be located on the second floor and a larger penthouse with rooftop features on the third.
Browne told Battista that he'll need to make a "compelling case" for why the building needs to be demolished when he and Sutphin present their final plans, likely in January.
The architect on the project is Lucas Brown.
Battista is working on a similar project on Massachusetts Avenue. He told IBJ that he didn't yet have a cost estimate for the Fletcher Place project..
Please enable JavaScript to view this content.