A restaurant and separate office building are in the works as part of the redevelopment planned for a key parcel in Broad Ripple.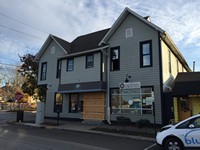 The building at Westfield Boulevard and Winthrop Avenue that once housed Broad Ripple Steakhouse (see first image) is set to undergo a major renovation to entice a new restaurant to the space. In addition, the smaller structure to the south along Winthrop will be demolished to make way for the office building.
Bill Ficca, co-owner of 317 Burger and The Vanguard (formerly Usual Suspects) in Broad Ripple, and Broad Ripple property owner John Pantzer, are the developers.
They purchased the steakhouse property in January for $790,000, acording to county records, and have received a zoning variance from the city to proceed with the project. Pantzer is unsure when construction will start, but he said he and Ficca have selected a construction manager and are in the final phases of planning.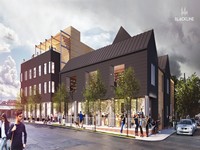 Pantzer declined to provide a cost estimate for the project, because they're still accepting bids, he said. The architect on the project is Blackline Studio. (Click second image for larger rendering.)
"The majority of it will probably come down, but it will look very similar to what it did before," Pantzer said of the Broad Ripple Steakhouse building.
Plans for the two-story structure at 927 E. Westfield Blvd. call for a restaurant on the first floor and a high-end cocktail bar above.
The two owners have spoken to various restaurant groups that have expressed interest in the space but have yet to sign a tenant, Pantzer said.
The building dates to the early 1900s and at various times was a boarding house and hotel. Its last occupant, Ripple Inn, replaced Broad Ripple Steakhouse in 2010 and closed two years later.
Before buying the property, Ficca had signed a lease with the owner but dropped his previous plan to open a pan-Asian restaurant on the first floor and gay bar above after concluding the building needed more work than he thought.
Ficca ultimately formed a partnership with Pantzer to buy the property and pursue a redevelopment as owners.
The building to the south, which was included in the steakhouse building sale, is currently occupied by Paradise Cafe & Hookah Bar. That structure will be torn down to allow for the construction of a three-story, 9,400-square-foot office building with a rooftop patio.
The pair would like to secure a tenant before starting construction, Pantzer said. Adding an office building with 70 to 90 employees would help bring more daytime foot traffic to the area, which is what village leaders are seeking to balance Broad Ripple's reputation as a nighttime haunt, he said.
"Daytime density needs to pick up," Pantzer said. "The only way that will happen is to have more office space there."
Ficca and Pantzer hope to complete the project in late 2017 or early 2018.
Please enable JavaScript to view this content.