A local developer is planning to build a 60,000-square-foot commercial project on the north side near the city's ritziest retail destination and one of its most traveled intersections.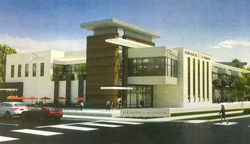 Keystone Realty Group affiliate Green Indy LLC has filed plans for the project with the city and is seeking to rezone a 12.7-acre wooded parcel at the northwest corner of East 86th Street and North Keystone Avenue, just west of the Fashion Mall at Keystone at the Crossing.
The development, dubbed Alexander at the Crossing, would feature 30,000 square feet of ground-level restaurant and retail space, and 30,000 square of second-floor office space, said Harry Reed, Keystone's vice president of development. (Click image for larger view.)
"Keystone Realty Group has been meeting with community stakeholders for over a year to develop a mixed-use building that will serve as a long-standing asset to the neighboring community," Reed said in an e-mail to IBJ.
Indianapolis-based Architects Forum is the architect on the project.
The city's Metropolitan Development Commission is expected to consider the rezoning request Jan. 18. Marion County assessor records show Green Indy paid the former Irwin Union Bank $2.2 million in 2011 to buy the property.
Nora-Northside Community Council has not taken a position on the project but is concerned about the additional congestion it will bring to the already bustling area.
"We have a lot of respect for this developer, but quite frankly, a lot of people fear there's no solution to the traffic problem," Ruth Hayes, the council's president, told Property Lines.
Keystone Realty did not provide a cost estimate for the project or a schedule for when construction might start. A second phase could be built on 10.1 additional acres, according to a city filing.
The land sits across 86th Street from Ironworks, a $30 million apartment and retail project developed by Hendricks Commercial Properties that opened in 2014. To the west, Hendricks is constructing the $20.1 million, 120-room Ironworks Hotel Indianapolis where the former La-Z-Boy building sat.
The 100,000-square-foot hotel, set to open next summer, also will feature 15,000 square feet of street-level retail space and an upscale restaurant on the second floor.
Please enable JavaScript to view this content.