Any redevelopment of the Coal Factory site in Irvington likely won't come before next year.
That's because the pitch to build a $7.7 million affordable housing project on the property failed to win the necessary tax credits to help finance the cost.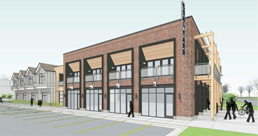 The developer of Coal Factory Flats had planned 46 units. (Image courtesy city of Indianapolis)
Third Street Ventures LLC and the not-for-profit Irvington Development Organization had hoped to build 46 apartment units on the 3-acre site on the southeast corner of Bonna and Ritter avenues. The two partnered to build the $11 million Irvington Lofts affordable housing project at the site of the former Indy East Motel at 5855 E. Washington St.
But the Indiana Housing & Community Development Authority, which administers the federal tax credits, didn't select the Coal Factory Flats project to receive the assistance.
The federal credits are awarded annually, usually in late February, to developers to incentivize private investment in affordable housing. Investors buy the credits, generating revenue to fund projects.
Out of 62 proposals in Indiana, only 16 were selected this year to receive the federal credits, illustrating the competitiveness of the program.
Still, Third Street Ventures is continuing with property due diligence and design work, and will explore the option of applying for the tax credits the next time around in November, President Antone Najem said in an email.
Margaret Banning, director of the Irvington Development Organization, said the group is no longer involved in the project but hopes the property ultimately will get redeveloped.
"It's such an incredible location," she said. "It's two blocks from Washington Street and on the Audubon."
Audubon Road is where Chris Baggott, co-founder of ExactTarget, bought a strip center on the site of the former Irvington town hall and opened a Mug restaurant. The eatery at 118 S. Audubon Road is his second Mug since launching the restaurant in Greenfield in 2014.
Also planned for two additional storefronts at the strip are a small grocery store, perhaps similar to Goose the Market in Fall Creek Place or Wildwood in Fountain Square, and a gastropub.  
Banning said Irvington, unlike hotspots such as Fountain Square and Fletcher Place, is still reliant on affordable housing tax credits to help spur multifamily residential development.
"We're just not there yet," she said.
The Coal Factory property, which includes a 50,000-square-foot building, is owned by an entity called Irvington Brewing Real Estate LLC, composed of Justin Miller, co-owner of Black Acre Brewery on East Washington Street, and Irvington property owner Bill Shank.
The partners had hoped to convert the property to a mix of restaurants, retail and artisan food production before reaching an agreement with Third Street to sell the site.
Please enable JavaScript to view this content.