The entity charged with selling the former General Motors stamping plant site will choose from four proposals—all submitted by local developers— representing an investment of up to $1 billion.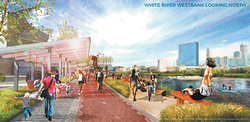 Michigan-based RACER Trust accepted bids until Wednesday from firms interested in redeveloping the 103-acre downtown parcel along the west bank of the White River. The number of offers the trust received was in line with what RACER's development manager, Bruce Rasher, expected.
"All contained proposed development for a transformative, mixed-used, intensive development connecting this property to the neighborhood and to downtown and taking advantage of the White River as an amenity," Rasher said.
Rasher won't reveal the names of the developers that submitted proposals until later, citing a confidentiality agreement. But at least one, Ambrose Property Group, presented its plans to the adjacent Valley neighborhood, said Jeff Miller, a City-County Council member whose district includes the stamping plant property.
"They reached out in force," he said. "They didn't make it a secret."
Ambrose President Aasif Bade declined to comment, citing the confidentiality agreement.
In 2013, when the property first went up for bid, Ambrose was among four local firms vying to redevelop the site. Buckingham Cos., Keystone Group and REI Investments were the other finalists.
The property is now available again for redevelopment after RACER terminated its contract in June with Carmel-based REI. It had planned to build an outdoor concert venue on about half the land but couldn't secure financing.
As of mid-2015, it appeared the 10,000-seat amphitheater would occupy the site's eastern half, and then-Mayor Greg Ballard's planned $500 million criminal justice center would occupy the western portion. But the criminal justice center project unraveled amid City-County Council opposition.
This time, city officials in the Hogsett administration prepared a draft (rendering above) to guide development by creating a framework that depicts the site as a destination, using the riverfront as a draw. Developers seem to have taken the city's suggestions to heart.
"They're very, very ambitious," Rasher said of the proposals. "It's intensive development, and it's transformative."
Rasher is unsure when a proposal will be selected, saying "we are more concerned with making the right decision."
Please enable JavaScript to view this content.