A Baton Rouge, Louisiana-based bar and restaurant, partly owned by a star NFL quarterback, is scouting for locations in Indianapolis.
• Walk-On's Bistreaux & Bar hopes to open in the next year in the metropolitan area. Once voted by ESPN as the "Best Sports Bar in North America," Walk-On's was launched in 2003 by Brandon Landry and Jack Warner. As college students, they both made the Louisiana State University basketball team by "walking on" without a scholarship—hence the name.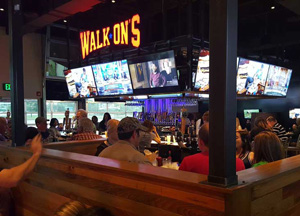 Warner sold his share in 2014, and New Orleans Saints quarterback Drew Brees came aboard as an investor. The third owner is New Orleans businessman Rick Farrell.
Landry and Brees discussed their expansion plans via franchising in a conference call earlier this month.
Walk-On's has 11 locations in Louisiana and one in Lubbock, Texas. As part as its move into franchising, it has several more planned for Alabama, Florida, Mississippi, Tennessee and Texas.
The chain has yet to identify a franchisee for its Indianapolis expansion plans, or any potential locations for a restaurant. Walk-On's typically takes existing retail space instead of building its restaurants. Besides Indianapolis, Walk-On's also is targeting Columbus, Ohio, for Midwestern locations.
"I think Big Ten country is on the horizon in the Midwest," Brees said. "We're beginning to see a lot of interest from people up there."
Brees, 38, who played college football at Purdue University and has spent 16 seasons in the National Football League, is no stranger to the restaurant industry.
He started as a Jimmy John's sandwich shop franchisee in 2011 and now has nine locations in New Orleans.
"I was an admirer from afar of Walk-On's," Brees said during the call. "It's literally on my drive to the [Mercedes-Benz Superdome]."
In other restaurant news:
• Tim Hortons continues to stake out locations in the Indy area, with plans for a third store on the east side of the city.
A state construction filing shows the Canadian-based coffee and doughnut chain will build at 9910 Pendleton Pike, on a lot west of Mitthoefer Road.
Last month, Tim Hortons filed to build at 8301 Rockville Road, near Avon and adjacent to a new GetGo convenience store, and at 4954 Lafayette Road, just north of Interstate 65 on the city's northwest side.
The three stores will be similar in size at 1,850 square feet.
• Sidekicks Pizza opened May 12 in the space vacated late last year by the End of the Line Public House on the southern end of the Fountain Square Theatre Building along Shelby Street.
The pizzeria is operated by Walter Bolinger, who opened the Scottish-influenced Red Lion seven years ago at 1043 Virginia Ave.
• Exotic on the Run, featuring Florida-style seafood, has opened at 5299 E. 38th St. between Emerson and Arlington avenues.  
• Metro Diner is opening at 2258 W. 86th St. in the space formerly occupied by Le Peep.
The Jacksonville, Florida-based chain also has locations at 3954 E. 82nd St. in Clearwater Crossing, 7225 U.S. 31 on the south side and in the Butler University parking garage.
In other news:
• Anytime Fitness has filed plans to build a 4,000-square-foot fitness center at 1300 E. 86th St., in the parking lot of Nora Plaza.
• Aldi on May 25 will unveil improvements to its stores at 5235 N. Keystone Ave. and 300 S. State Road 135 in Greenwood as part of the company's nationwide $1.6 billion remodel plan.
• H&M reopened May 18 in its larger space at Circle Centre mall, expanding into what was The Loft.
• Bill Estes Automotive opened on May 6 a Chrysler Dodge Jeep Ram dealership in Brownsburg. Located at the corner of Northfield Drive and East 56th Street, the new dealership sits on 10 acres and joins Bill Estes Ford as the second Bill Estes dealership in Brownsburg.
Bill Estes also operates a Chevrolet car lot at Michigan Road and Interstate 465 on the northwest and the Chevrolet-Buick-GMC store in Lebanon.
Closings:
• Say Cheese Bistro has closed at City Market as it searches for a larger location, according to a sign in the space.
Please enable JavaScript to view this content.