A group proposing a three-story mixed-use project in Broad Ripple has its work cut out for it in a bid to receive city approval.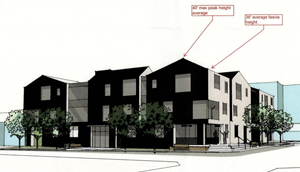 Thomas English of Thomas English Retail Real Estate and architect Chris Short want to demolish two homes in the 6300 block of Guilford Avenue, one of which has been converted to an office and the other vacant. (Click accompanying image for larger view.)
The two properties encompass the entire block bounded by Main Street to the south, 64th Street to the north, Guilford to the west and Cornell Avenue to the east.
Plans call for roughly 2,500 square feet of retail space on the first floor, in addition to 30 parking spaces; office space on the second level; and 10 apartment units on the third. Short's firm, Haus, is the architect on the project.
English and Short presented their plans Thursday to the Metropolitan Development Commission's hearing examiner, who sided with Department of Metropolitan Development staff in recommending that the project be denied
MDC is expected to consider the project on Sept. 6.
"I appreciate the effort everyone has put into this. It has gone through a lot of iterations," said Judy Weerts Hall, MDC's hearing examiner. "I also appreciate that owners want to have their offices in the building. I am somewhat concerned, though, that this is an over-intensification of this particular site."
English and Short originally had proposed developing a four-story building on the site before modifying plans to reduce it to three stories. That puts the project closer to the 35-foot height maximum for the area. They are seeking a variance to allow for a 40-foot building. They also want to rezone the properties to make way for a mixed-use development.
More intense development, such as what the two are proposing, is more suited for areas south of the Central Canal, Weerts Hall argued, where more commercial activity exists.
The Broad Ripple Village Association and Midtown Indianapolis Inc. both support the project.
Please enable JavaScript to view this content.