Flaherty & Collins Properties on Wednesday will mark the start of construction on a $40 million mixed-use project in downtown Brownsburg as the town engineers a real estate revival for the area with several projects.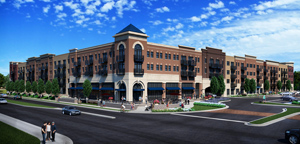 Dubbed The Arbuckle, due to its location directly east of Arbuckle Acres Park, the 391,502-square-foot development will feature 208 apartments and 7,500 square feet of first-floor retail, and should be completed by spring 2019. (Click on image at right for larger view.)
"We are very excited to partner with the town of Brownsburg on this new mixed-use development, which we believe will be the destination for luxury urban living in Brownsburg," said Deron Kintner, Flaherty & Collins' general counsel and lead developer, in a prepared statement.
Indianapolis-based Flaherty & Collins is investing $30 million in the public-private project, which will be built on part of the site formerly occupied by St. Malachy Catholic Church and School on the west side of Green Street in the Hendricks County town.
The development is part of Brownsburg's larger plans to transform its nondescript downtown into a more vibrant anchor for the community.
Adjacent to The Arbuckle, Indianapolis-based Envoy Inc. is constructing a $4.8 million, 28,000-square-foot office building. The two-story project will include 115 individual suites and should be finished early next year.  
On the east side of Green Street, Scannell Properties has been approved to build a four-story project with about 11,000 square feet of retail space on the ground floor and 170 apartments above. The project also will include a 212-space parking garage financed by the town.
Scannell is set to invest about $20 million in the project, with the town picking up the tab for the $4.3 million parking garage from taxes generated by the new developments.
Units at Flaherty & Collins' Arbuckle project will range in size from 750 square feet for a one-bedroom apartment to 1,500 square feet for a two-bedroom unit. Rental rates have not been set, Kintner said.
Residents will have access to nearly 7,000 square feet of amenities, including a courtyard with fire pits, bar area, grilling station and saltwater pool with a large wet deck. Interior features include a 400-space parking garage, fitness center, coffee lounge, conference room, pet wash area, bike storage and community demonstration kitchen.
The architect on the project is Indianapolis-based CSO Architects.
The ceremonial groundbreaking will begin at 11 a.m. Wednesday at 300 N. Green St.
Please enable JavaScript to view this content.