The $81.4 million dual-brand Hyatt hotel complex under construction across from Bankers Life Fieldhouse is slated to be finished in April 2019—nearly two years before the NBA All-Star game comes to town.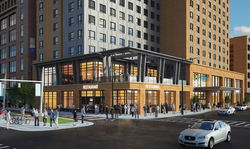 In the meantime, Gary Perel of Alo Property Group is tasked with marketing the 13,200 square feet of ground-level retail space on behalf of developer HRI Properties.
New Orleans-based HRI is building the 15-story, 316-room hotel complex (click accompanying renderings for larger views)—a combination of the 186-room Hyatt Place and 130-room Hyatt House brands.
The available retail space consists of 6,500 square feet at the corner of Pennsylvania and Georgia streets—where Perel envisions a "premier restaurant anchor," in addition to 3,700 square feet of adjacent space on Pennsylvania, and 3,000 square feet in the 382-space parking garage.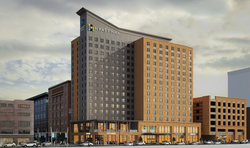 "It's one of those unique opportunities in the marketplace where you can put some amazing entertainment space across from the most heavily frequented entertainment arena in our city, where nothing has ever existed," Perel said.
The site of the complex has long been a surface parking lot.
The space is just a small piece of the 300,000 square feet of retail space that downtown Indianapolis is expected to add in the coming years from big mixed-use projects such as Bottleworks on Mass Ave and the second phase of CityWay.
To help the developers market the space, Downtown Indy received $50,000 from the city to spend on promotional materials, demographic reports and to attend an International Council of Shopping Centers conference last week in New York City.
For the Hyatt hotels, HRI is receiving $20 million in bonds issued by the city to finance construction of the parking garage, based on the tax increment expected to be generated by the project. But the developer, not the city, is responsible for the difference through a developer-backed bond, if for some reason the increment doesn't cover the city's debt payments on its bonds.
The architect on the project is Ratio Architects.
"Visibly, it will be a very welcome addition to the market," Perel said.
On Wednesday, officials with the NBA, Indiana Pacers and city of Indianapolis revealed that the 2021 NBA All-Star Game will take place in Bankers Life Fieldhouse. The weekend-long All-Star Game festivities are expected to have a $100 million economic impact on the city.
 
Please enable JavaScript to view this content.