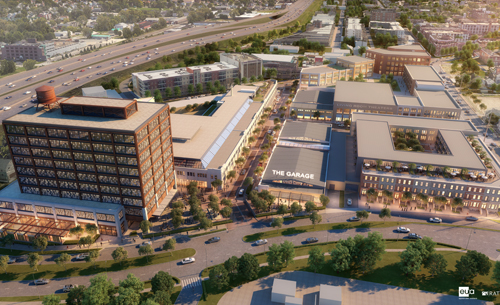 Downtown Indianapolis in the coming years is set to add a whopping 300,000 square feet of retail space attached to big mixed-use projects such as Bottleworks on Mass Ave and the second phase of CityWay.
The glut is sure to present challenges for developers. They're already are getting an assist from not-for-profit advocacy group Downtown Indy and the city of Indianapolis, which hope to help them fill the gaps with attractive restaurants and retailers.
Downtown Indy received $50,000 from the city to spend on marketing materials, demographic reports and to attend an International Council of Shopping Centers conference this week in New York City.
Catherine Esselman, Downtown Indy's real estate development manager, is traveling to the Big Apple to represent Indianapolis at the retail deal-making confab, which runs Wednesday and Thursday, and attracts scores of developers and retail brokers.
"The conference is one part of the overall strategy," she said. "I'm thinking about how many new eyes I can get on our market."
The idea is to take a more aggressive approach to marketing downtown to retail brokers and prospective tenants, considering the flood of new storefronts that are expected.
Downtown currently boasts about 3.2 million square feet of retail space, with a vacancy rate of 3.1 percent, according to Cushman & Wakefield's second-quarter retail report.
Adding 300,000 square feet will boost available inventory by more than 9 percent, with several mixed-use projects contributing to the increase.
Bottleworks by far is the largest and is expected to add 114,000 square feet of retail space to downtown. Beloit, Wisconsin-based Hendricks Commercial Properties is set to build the development on the former Coca-Cola bottling plant site in the northeast quadrant of Massachusetts and College avenues.
The $260 million project on the 11-acre site also calls for 157 apartment units, 40 for-sale condominiums, 170,000 square feet of office space, a West Elm hotel and eight-screen cinema, for a total 1.2 million square feet of development.
Steve Delaney of CBRE, who will be attending the ICSC conference, has been hired by Hendricks to market Bottleworks.
"It will be nice to have Downtown Indy also there, to promote downtown on behalf of the city and to work with us," Delaney said. "They're just like another arm. It's a very positive thing for the city and for brokers."
Besides Bottleworks, other mixed-use projects that will add more retail space to downtown's inventory include Buckingham Cos. second phase to CityWay and J.C. Hart Co. Inc.'s Penrose on Mass. Still another is The Ardmore, to be developed by Gershman Partners Inc. and Deylen Realty Inc. at the southwest corner of North Delaware and East New York streets.
Esselman at Downtown Indy is bringing with her to New York City 150 copies of a promotional piece printed in partnership with Pattern magazine at 877 Massachusetts Ave.
The slogan on the 10-page piece used to promote downtown is "surprisingly connected"—a nod to its connectivity and compact layout.
"It's what makes us different," Esselman said of downtown, noting the Cultural Trail and indoor tunnel system linking to the Indiana Convention Center as examples.  
Please enable JavaScript to view this content.