Local restaurateurs Peter George and Thomas Main had hoped to open BBQ Barn in June, adding to their stable of East 16th Street eating establishments.
But as 2017 comes to a close, the two are unsure whether the barbecue joint will open at all.
They own the red, two-story building at 1215 E. 16th St., east of the Monon Trail and adjacent to Festiva, one of their other restaurants on the corridor, along with Tinker Street.
It's now available for lease.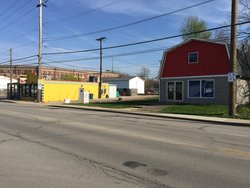 "We're certainly checking out our options," George told Property Lines. "We're giving people an opportunity to check it out, but the best-case scenario is a barbecue joint."
The opening of BBQ Barn fell behind schedule when it took the pair 90 days longer than expected to receive a city permit to start construction, George said. The delay was caused by the city's insistence that the restaurant be equipped with two bathrooms, one for employees and one for patrons. George and Main, however, maintained they only needed one, for employees and customers to share.
By the time the city relented, George said, it was too late in the year to begin smoking meat.
"We're not going to open a picnic table, barbecue place in the winter," he said.
In addition, George and Main plan to own the building and hand daily operations to Blake Ellis, chef of Festiva, who would serve as the pit master of BBQ Barn.
But Ellis needs more money to launch the concept.  
"We're not talking about big bucks," George said. "He still wants to do it, and I told him I still want him to do it."
In the meantime, two "massive" barbecue smokers sit unused.
Please enable JavaScript to view this content.