SHANGHAI—Indiana University professor Bruce Jaffee has been to China three times over the past three decades—with each visit coming at a pivotal juncture in the country's history.
The contrast between his first visit—in 1981—and his latest this month could hardly be greater.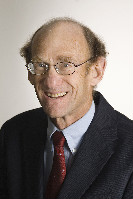 The first came just four years after the giant Communist nation launched market-oriented economic reforms. Back then, few people had TVs, and there were no private cars. Chinese, many wearing drab Mao suits, whizzed around on bicycles.
Today, cars are everywhere, and despite the proliferation of highways, gridlock is common. Then there's the staggering pace of construction. It's not unusual to see a dozen, 20-story apartment buildings being constructed as a single project. And the country now has four skyscrapers on the list of the world's 10 tallest buildings.
"The most dramatic change to me now is certainly the transportation system. Private cars, the road systems—it's just remarkable," said Jaffee, emeritus professor of business economics and public policy in the Kelley School of Business. "It's virtually the elimination of bicycles as the standard mode of transportation."
Jaffee first came to China to teach a semester in what was China's first English-language MBA program. It was instigated by the Chinese government, which realized carrying out the country's economic transformation required having managers skilled in Western business practices.
He was scheduled to return in 1989 for a research project, but put off the trip until the following year because of the unrest following that year's pro-democracy Tiananmen Square protests.
When Jaffee arrived in 1990, he saw a few Western hotels, taxis had become available (but only by calling ahead), and English had displaced Russian as the foreign language to study.
Much else seemed similar. There still were no highways, and there were almost no foreigners in the country.
"I think it is positive how advanced and developed China is now," said Jaffee, director of IU's Center for International Business Education and Research.
On the other hand, he frets the country won't be able to continue its blistering pace of expansion—in part because slow growth in North America, Europe and elsewhere in Asia will pinch demand for exports.
"I think to meet their goals for the next five years, the next 10 years, is going to be a real struggle," he said.
Please enable JavaScript to view this content.