SHANGHAI—News and notes from a memorable week in China:
— The pace of infrastructure spending here is almost unfathomable. Tree-lined highways are popping up everywhere. And the government also is investing big in high-tech mass transit.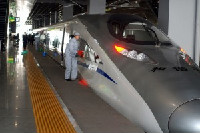 Our group took the world's fastest train—the Harmony Express—from Hangzhou to Shanghai, a 90-mile trek. It traveled a super-smooth 220 mph. The seating area had all the comforts of an aircraft, complete with in-trip entertainment. At one point rich with irony, Charlie Chaplin's "Modern Times" played on the video screens.
China was on an infrastructure-spending spree even before the government in 2008 unleashed a $586 billion stimulus program aimed at blunting the impact of the global financial crisis.
— Driving in this country is unlike anything I've ever experienced.
I'm thankful I was a passenger in a bus, not a driver. Vehicles drive on sidewalks, cross the center line—whatever it takes to get around gridlock. And drivers think nothing of cutting one another off.
I'd say it's amazing more people don't get hurt. But more people do. The International Road Federation says the number of deaths per 10,000 vehicles is 7.9 in China vs. 1.7 in the United States.
No wonder that David Chen, a vice president for GM China, told us driver education is a big focus here.
— West Lake, a scenic fresh-water lake in Hangzhou, is considered one of the jewels of China. Unfortunately, during our visit a thick haze of pollution hung in the air—an unfortunate reminder that China has yet to get its environmental problems under control.
China is the world's most prodigious emitter of greenhouse gases. The government is trying to address the problem by shutting down noxious factories and tightening emission standards. But new factories and millions of new cars on the highways are adding to the challenge.
Because of the problems, it's not unusual to see Chinese people in public wearing masks over their nose and mouth.
— China's Communist government blocks access to some of America's most-popular websites, including Facebook, Twitter and The New York Times.
You can add a small fry to the list. At the end of our visit, China blocked IBJ.com, an apparent reaction to the Report from China posts, said Scott Kennedy, an Indiana University professor leading our delegation. It's not clear what the government might have found objectionable.
— Chinese companies seem to have a thing for inspiring slogans. We came across several humorous ones during our visit. My favorite was on the wall of the Geely car factory in Ningbo: "Discovering the problem is good, solving the problem is important, avoiding the problem is stupid, no problem is bad."
Please enable JavaScript to view this content.