Welcome to What's New Wednesday, where we profile local startups—and the entrepreneurs behind them. This week, meet Jon Perl and Oren Shatken, co-founders of Startup Bowl winner FoundOPS LLC.
Type of business: online platform designed to help field-service companies manage employees and routes
Address: 1305 Cumberland Ave., Suite 205, West Lafayette
Phone: (347) 460-4004
E-mail: oshatken@foundops.com
Website: foundops.com
Founded: August 2011
Owners: Jon Perl and Oren Shatken
Owners' background: Perl, 22, and Shatken, 24, met at Purdue University, where both were members of the Alpha Epsilon Pi fraternity.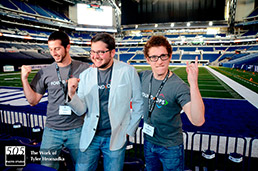 FoundOPS' Andrew Pohl, left, Oren Shatken and Jon Perl were thrilled to win the Startup Bowl. (Photo courtesy of FoundOPS)
A native of northern Virginia, Perl was studying computer science and doing software consulting for clients in the service industry—a niche he identified as a 15-year-old employee at a medical courier business.
Hired to be a dispatcher, he quickly saw a number of inefficiencies he thought he could eliminate with a custom software program. His bosses gave him the go-ahead, and his application streamlined the operation. That experience provided the seed for FoundOPS, which targets field-service businesses of all kinds.
Perl is on a hiatus from school while he works on the startup.
Shatken, who hails from New Jersey, started out as an industrial design major but ultimately earned his degree in political science. He also studied entrepreneurship. What Shatken lacks in technical expertise he makes up for in clarity of vision.
The men joined forces after Perl asked Shatken for his opinion on a particularly complicated part of a program he was designing. Shatken quickly helped him pare down more than 40 user options to a single choice.
"I knew then that I needed to work with him," Perl said.
They started working on Perl's room at the fraternity house, later outfitting a tiny office in an empty space there.
"It was so small we couldn't get up from our desks at the same time," Shatken said.
Senior software engineer Zach Bright later joined FoundOPS as a principal, and Perl said his goal is for every employee to own a stake in the company.
Why started business: Perl's consulting experience convinced him that small and mid-sized field-service businesses—those with five to 14 vehicles in their fleet—need help planning routes, managing employees and handling invoices.
The custom programs large firms use are too expensive for smaller businesses, he said, and work-around solutions like Excel spreadsheets or push-pin maps are labor intensive and have limited functionality.
"We can really help these guys," Shatken said.
Competitive advantage: The partners estimate small field-service businesses nationwide—think landscaping firms, plumbing companies and the like—have about 1.7 million vehicles on the road.
FoundOPS aims to help them operate efficiently by providing affordable, customizable software. Its cloud-based platform has two components:  a web application for business owners, managers and dispatchers that handles scheduling and route optimization, and a mobile app field workers can use to check in and submit invoices.
About a dozen companies nationwide are beta-testing the product, Shatken said, and the company is adding about use user a week. They expect to begin charging for the service Jan. 1.
Funding source: FoundOPS has tapped family and friends to fund initial startup costs, and the partners said they are evaluating their options to finance growth.
Winning the inaugural Startup Bowl during this month's Powder Keg conference in Indianapolis gives them a little breathing room. The $15,000 grand prize included $2,500 in cash from Elevate Ventures.
Potential problem and contingency plan: FoundOPS is employing the "lean startup" method of testing the marketplace on a small scale and solving problems as they arise.
So far so good, though the founders admit they could have started even smaller, waiting for client feedback before building the route-mapping algorithm, for example.
"Small is great, but smallest is even better," Perl said. "We're lucky we made some big guesses correctly."
First-year goal: Once the paid product rolls out early next year, the FoundOPS team will focus customer-acquisition efforts on a few key industries where it already has gained some traction. Among them: biodiesel firms like Got Grease, which collects used cooking oil from restaurants and converts it into fuel.
Perl and the other developers also are working on a program that would automatically import a company's customer data—something now being done manually—and Shatken is hoping to simplify the platform's user interface.
"If companies have the opportunity to try it for free and it only take a few minutes to sign up, that's a really obvious value for everyone," Shatken said.
 
In the video below, IBJ boils down all 12 pitches from the contest, including the presentation by FoundOPS' Shatken, to find any common themes for budding entrepreneurs.
Please enable JavaScript to view this content.